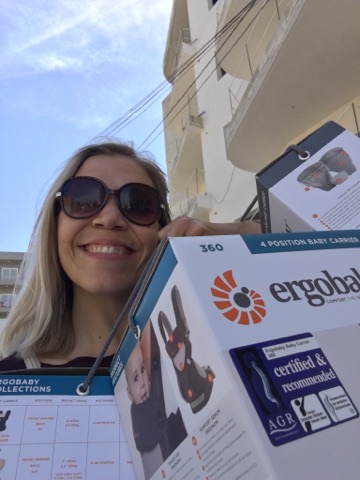 I would like to introduce you to a lovely mum, Pauline Lephew, who is an entrepreneur and a babywearing enthusiast. Passionate about wearing little ones and the benefits of it for both parents and child, Pauline joined the Maltamum team in May 2017.

Lets get to know her a little bit better 🙂

Aside form her successful webdesign business (www.paulinelephew.com), she has a 13 months old son, a super cute boy named Jackson. Although born and raised in France, she has been travelling since her youngest age and met her American husband during an exchange program in the USA. Babywearing her little one was a practical choice as she has a genetic disease that weakens her arms. With time and practice, it became a passion and a lifestyle and she now wears her son everywhere she goes, including cross-continents plane trips, 10k walks, hikes, or even the Rabat catacombs.

Soon to be certified as a Babywearing Educator, Pauline uses multiple types of carriers (ring slings, water slings, woven wraps, soft structured carriers) and loves that the internationally top ergonomic baby carrier brands Ergobaby and Tula have created multiple models to meet the needs of each mum and each baby out there.

She is also very excited to try out for the first time the toddler Tula (for kids up to 27kg) as Maltamum is about to be soon Tula's exclusive retailer in Malta. Tulas have amazing designs and fun panels to wear your baby in style, and like Ergobaby, they are well known for being super comfortable for the carrier and the baby alike.

Feel free to book an appointment with her in Sliema to see our carriers and have a demo on how to use your carrier of choice.
Category: Ergobaby, Interviews, Maltamum Shop