About me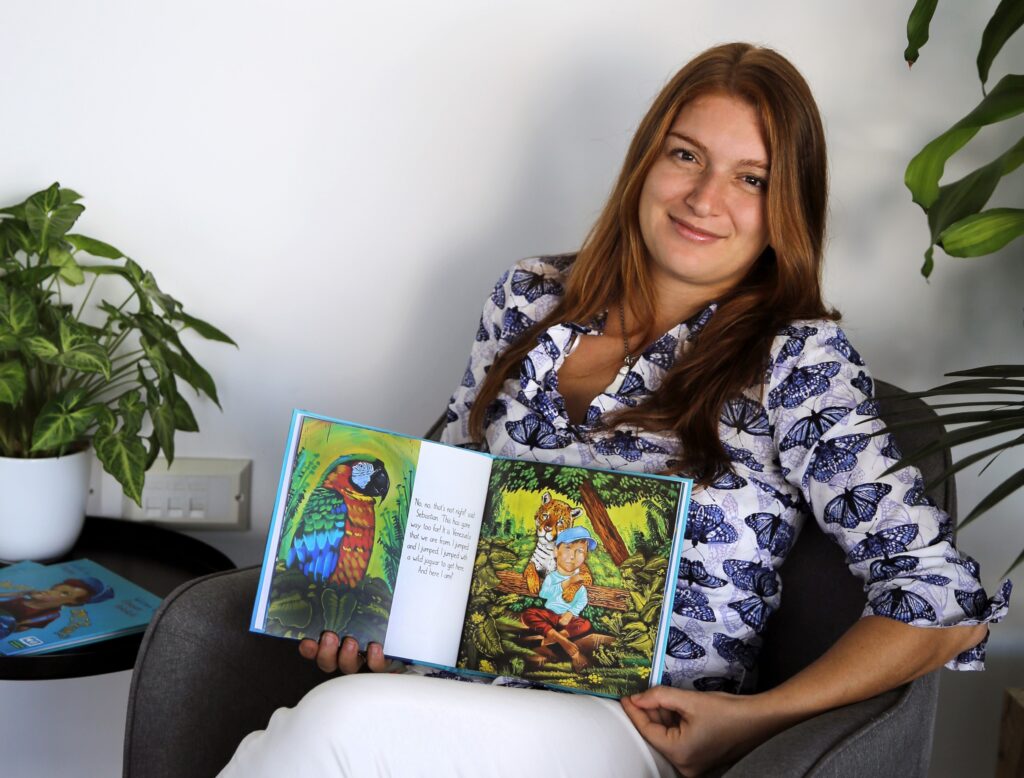 Hi,
I'm Elisavet Arkolaki, it's great connecting with you!
I'm a multilingual mom raising two beautiful multilingual and ethnically mixed children, and I'm a children's book author, mainly writing and publishing bilingual books. I have lived in six countries and my home right now is in Norway.
Both my husband and I are passionate about traveling; inspired by global learning, we're raising our own children in between countries, cultures, and languages. I write to build cultural understanding and sensitivity in young children while they are still eager to learn, and also to entertain, help and support them in their bilingual journey. The bilingual books I've published are ideal for early readers: white background, large and easy-to-read fonts, the image on one page and the text on the other, etc. They're available in 50+ languages with progressively longer stories from one book to the other.
I have an academic background in foreign language teaching, translation, and marketing. I graduated from the University of Liverpool with a degree in Global Marketing (MSc), the University of Athens (EKΠΑ) with a degree in French Philology/Language and Literature (BA), and I was awarded a certificate of proficiency in English from the University of Cambridge. I speak four languages now at different levels of fluency.
I'm proud to volunteer as a PEaCH Ambassador. PEaCH is an Erasmus+ (EU) funded project that supports European families raising bilingual and multilingual children. PEaCH does this in the form of a handbook for parents, a handbook for educators, informative videos, and an online collection of ready-to-use materials in the 24 official EU languages. On their YouTube channel you will find videos with narrations of my books in many languages.
To find fun activities related to my books, subscribe to my newsletter, join my private FB group Elisavet Arkolaki's Behind the Book Club, or just click here!
*************************************************
Elisavet Arkolaki is the author of:
Non-fiction books
How to Raise Confident Multicultural Children
A short love story for adults in a photo book format
Together They Blossomed
(It's also available in bilingual editions in EN-FR, EN-ES, EN-IT, and EN-GR).
Children's books in English
Where am I from? (Faraxa Publishing, Malta, EU)
Sunny's Magical Headband
Happiness Street
Cousins Forever
Nelly's Box
Bilingual children's books 
Cousins Forever (50+ languages)
Happiness Street (45+ languages)
Nelly's Box (20+ languages)
Summer with Grandpa (20+ languages)
Available languages:
• Afrikaans • Albanian • Arabic • Armenian • Basque • Bosnian • Bulgarian • Catalan • Chinese (Traditional & Simplified) • Croatian • Czech • Danish • Dutch • English • Estonian • Filipino / Tagalog • Finnish • French • Galician • Georgian • German • Greek • Hebrew • Hungarian • Icelandic • Indonesian • Irish • Italian • Japanese • Korean • Latvian • Lithuanian • Macedonian • Malay • Maltese • Norwegian • Polish • Portuguese (PT) • Portuguese (BR) • Romanian • Russian • Serbian • Slovak • Slovene • Spanish • Swedish • Turkish • Ukrainian • Vietnamese • Welsh