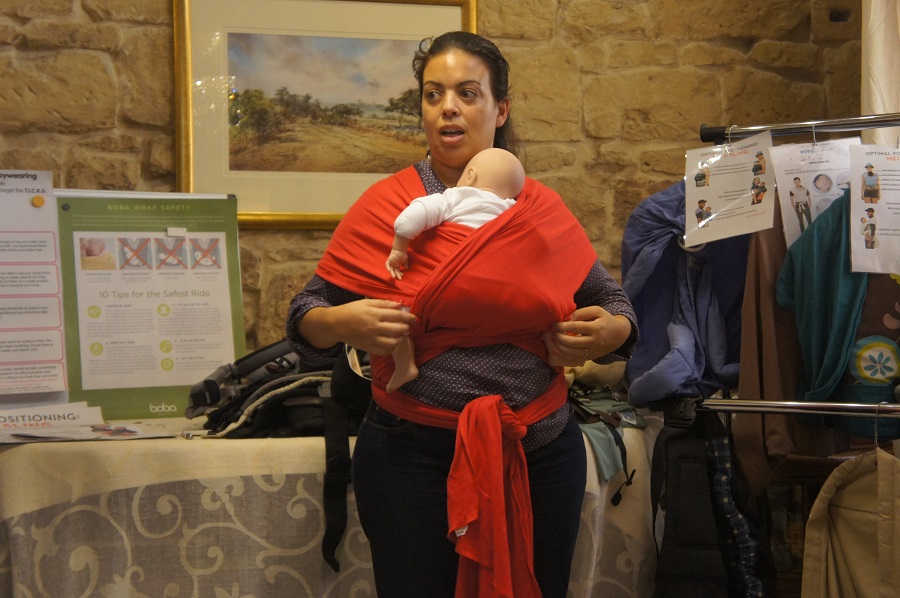 The baby wearing concept is pretty simple: Instead of carrying your baby, toddler, child in your arms, you carry them using a comfortable, sling, wrap or ergonomic carrier. It's a tool that will save your back from back pain and which will provide the little one with the extra cuddles that she so desperately needs. There are tons of benefits related to babywearing and here's the list with the Top 10 reasons why you should wear your baby in an article that I wrote for Eve.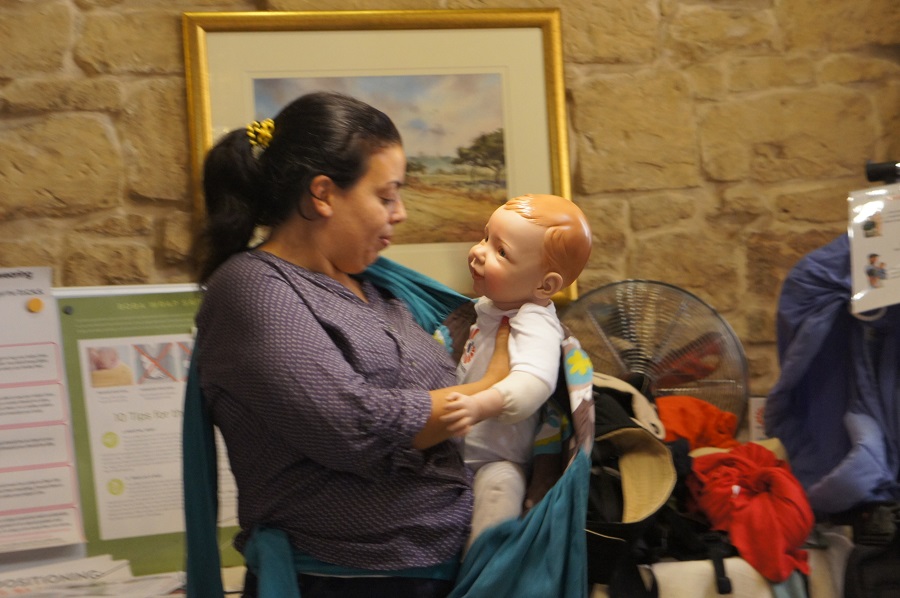 The Baby Wearing Workshop and the Babywearing Library

On the 21st October 2015 I attended Becky Gauci Maistre's Baby Wearing workshop. I highly recommend it to every new mum and mum to be! I've been babywearing for more than 2 years now and I was positively surprised to see that there were still new things to learn. Most importantly, Becky will help you find the best baby wearing option for you, and teach you how to use it properly and safely.

The workshop consists of 2 parts:
Babywearing theory ( 1 hour)
You will learn all about baby wearing safety and the TICKS rule for safe babywearing (tight, in view at all times, close enough to kiss, keep chin off the chest, supported back), how to take good care of your carrier, the do's and dont's of baby wearing including the different baby wearing methods (ring slings, wraps, soft structured carriers) and the ones not recommended.

Babywearing / Sling library ( 1 hour)

You will have the opportunity to try on various ergonomic baby wearing slings and carriers with Becky's help, including the 5 Ergobaby carrier models (Original, Organic, 360 Ergo, Performance Ventus and Performance Classic) which have been donated to the library by our e-shop, Maltamum Shop, and which come in over 30 designs.
After the workshop, a follow-up email will follow that summarizes the key points covered during the course.
For more information, you can contact treeoflife@gmail.com and join the closed group on Facebook BabyWearing Malta
Becky has reviewed the Ergobaby 360 carrier and you can read her review here.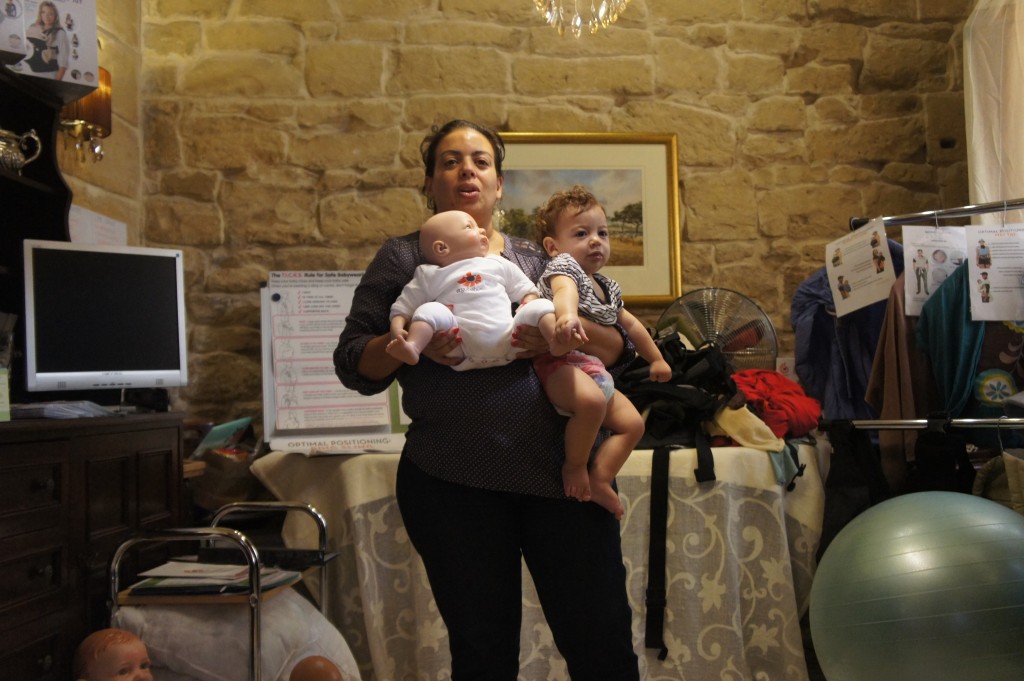 Who is Becky and how I got to know her

It's been almost 2 years since I first met Becky. I had just recently became a mum, I was still a bit lost, terrified and upset over my birth experience, and Maltamum was at its infancy. Becky read my blog post with Erik's birth story – vacuum extraction and reached out to me in private.

Becky was a mum of two young girls at the time, studying hard to complete her Childbirth Educator and Postpartum Doula studies, but still somehow finding the time to help others; she sensed I was distressed, angry and upset over my birth experience.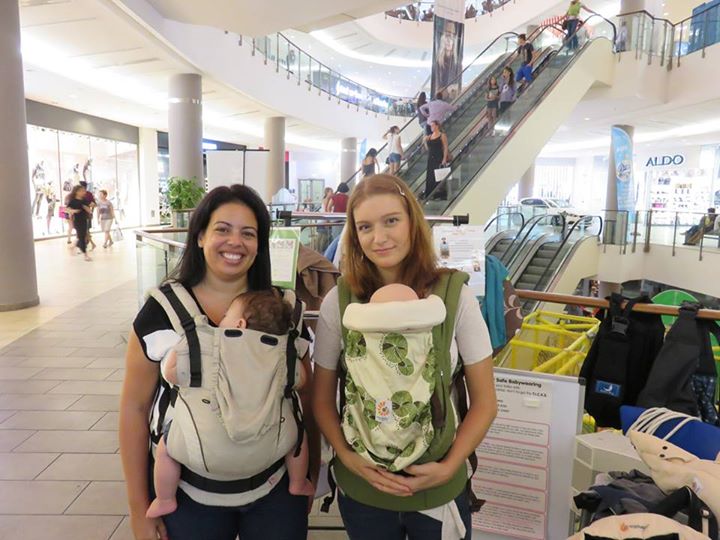 Becky herself had a traumatic birth experience with her first baby. Since then on, she embarked on a journey of knowledge and discovery, determined to help others avoid such an introduction to parenthood. Following a healing and empowering journey with her second child, she quit her PhD studies in Identity Management and decided to start training instead as a childbirth educator and post-partum doula. Since then on she also had her third child (home birth), became a Baby Wearing Educator and the founder of Baby Wearing Malta.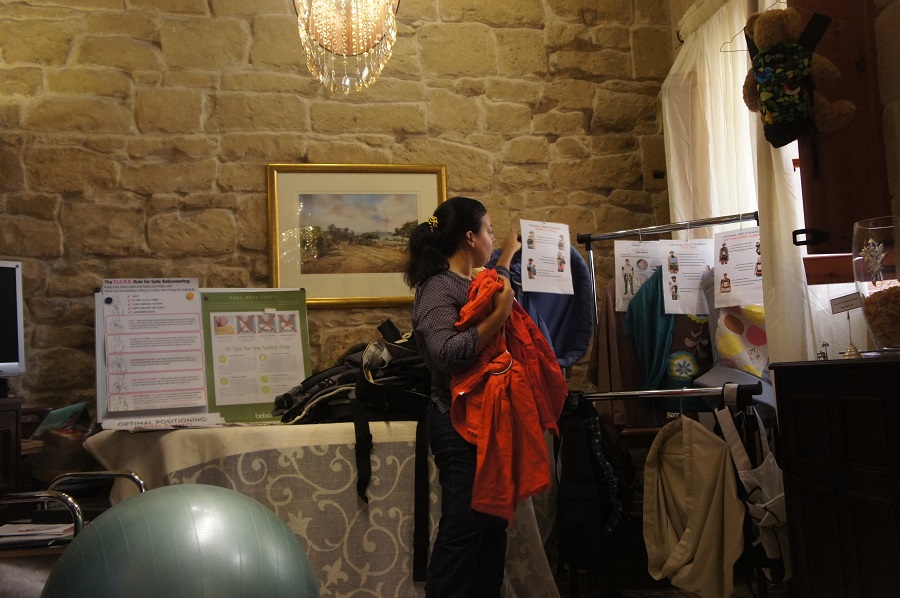 She also co-founded the Better Birth Coalition, which is now a member of The Positive Birth Movement, and Parenting from the Womb. She is the local chapter leader for Momma Trauma's Sacred Circle – an international peer-to-peer group set up to assist mothers who have experienced a traumatic birth experience. She is currently beginning to get her ante- and post-natal services of the ground under the umbrella name Tree of Life.

Becky is particularly focused on assisting mothers who have had traumatic birth experiences, require information on birth after traumatic birth, be it natural or repeat caesarean, and raising awareness on how to have positive birth experiences. She also hosts and organizes baby wearing workshops in Malta for beginners and / or advanced baby wearers.
Wish you a lovely day, Liza.
Category: Ergobaby, Events in Malta, Past events, Resources for Malta Mums