Ergo 360 visits the Malta Aquarium – by Becky Gauci Maistre from Baby Wearing Malta
I have been positively burning with curiosity about the Ergo 360 and whether it would like up to all the hype created, so when Elisavet Arkolaki, of Maltamum, sent over a sample donation for the library, I was truly excited to try it out.
What is it?
The Ergo 360 is an ergonomic carrier from one of the leading manufacturers of such carriers. Unlike the majority of ergonomic carriers, the Ergo 360 also offers a front-forward facing position, making it a 4-position carrier. The majority of ergonomic carriers, including the Ergo Original and the Ergo Performance, only a measly 3 positions in comparison.
What does it look like? (click on the picture to zoom in)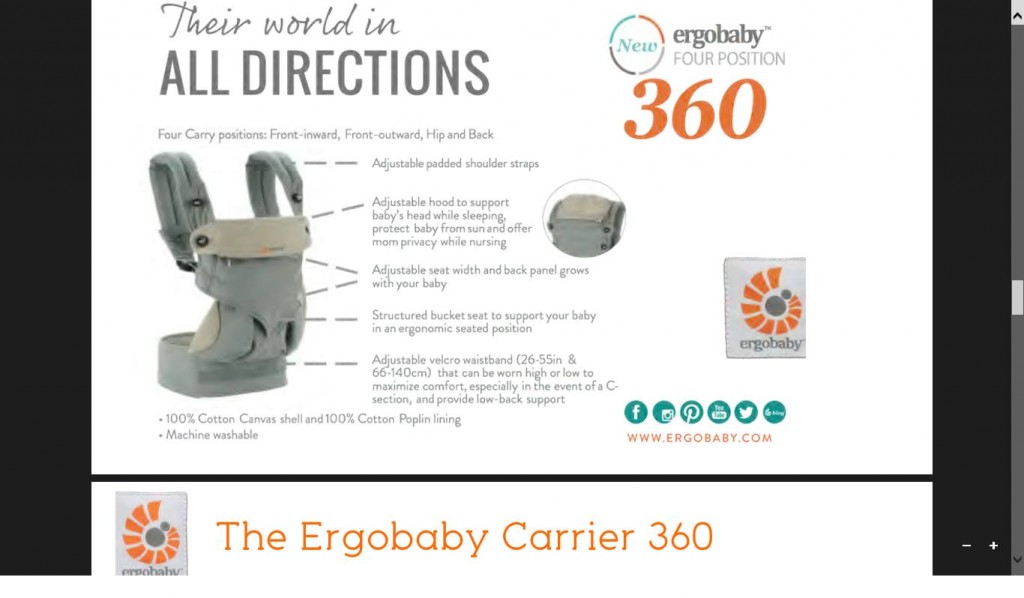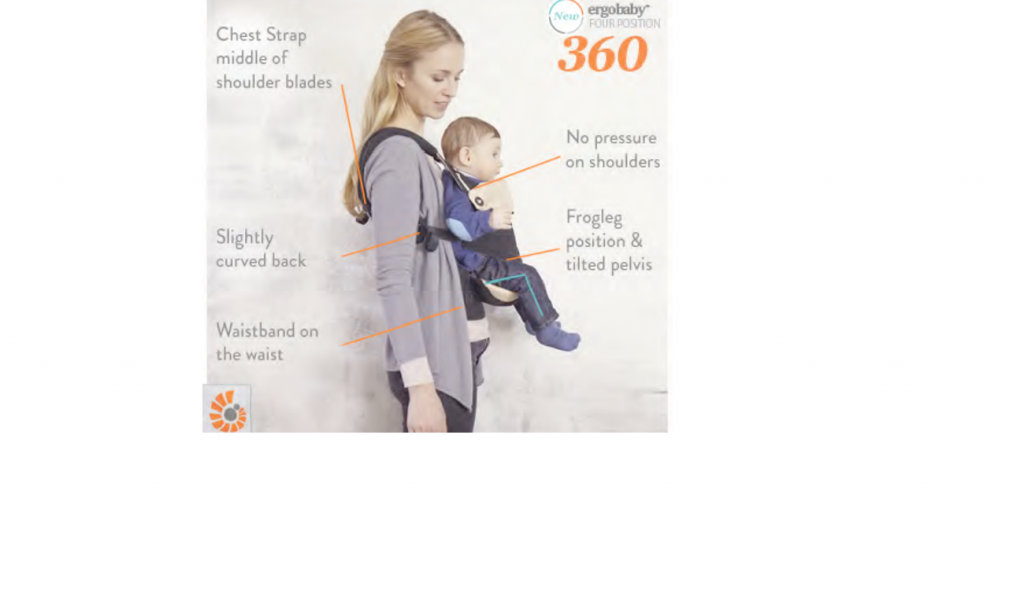 The Ergo 360 looks like any standard ergonomic carrier, but had some fancy button work going on in places rival carriers don't. The base is also slightly narrower than your average ergonomic carrier, which is reflected in the fact that the carrier is restricted to a weight limit of 15kg.
Structurally, it feels very solid. The waist band is longer than average and secures with Velcro and a standard buckle clip over it for added safety. This makes it more adjustable to different body shapes and sizes. The back panel is much thicker than average ergonomic carriers, though.
There are buttons on the outside of the back panel that allow the panel width to be narrowed when in front-forward mode, and more buttons on the shoulder straps for the hood. This is quite different to the popper-style buttons found on the majority of carriers.
The design is intriguing and is clearly a fashion item as much as it is a functional one.
How does it work?
When in front-inward, hip or back-carry, it works just like any other standard ergonomic carrier and is only different in its weight limits. When wearing, the reason for this lowered weight limit is obvious in the slightly narrower seat width.
When wearing baby in the 3 standard positions: front-inward, back or hip, the seat is adjusted to the blue buttons, which results in the seat width being spread to the maximum width. When wearing in a front-outward position, the seat is adjusted to the grey buttons, which slightly narrows the seat width, whilst still keeping baby's legs in a spread-squat position. This last point is where Ergo 360 differs significantly from all other front-forward facing carriers. A typical narrow-based carrier will have baby's legs hanging straight down regardless of carry position. In this manner, Ergo are keeping pressure off the baby's spine and hips. Ergo only recommend the forward-facing/front-outward position from 5 months and up to 12 months, 5 months being the average age a baby will no longer require a version of the insert.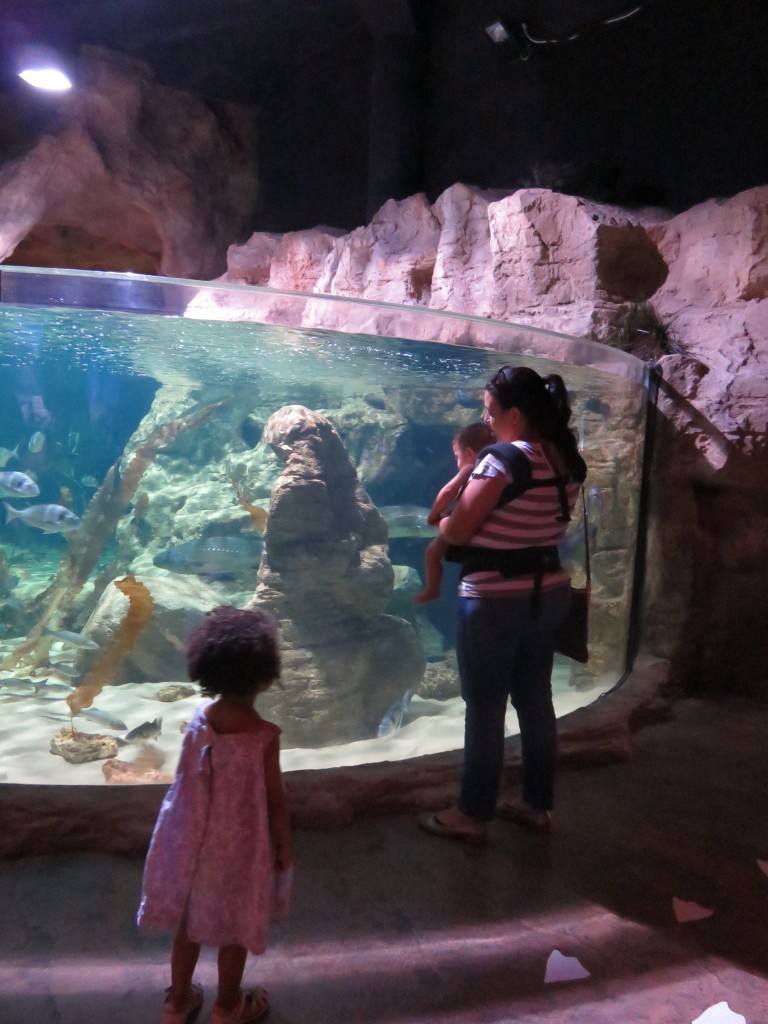 Just like all other ergonomic carriers, when in one of the 3 standard positions, the waist band is worn on the pelvic bones. However, when in front-forward, the waist band should be raised slightly higher.
Due to being able to wear it slightly higher than average (most carrier waist band is on the hips), the Ergo 360 is a very suitable carrier for use after a caesarean section.
Trial Run Results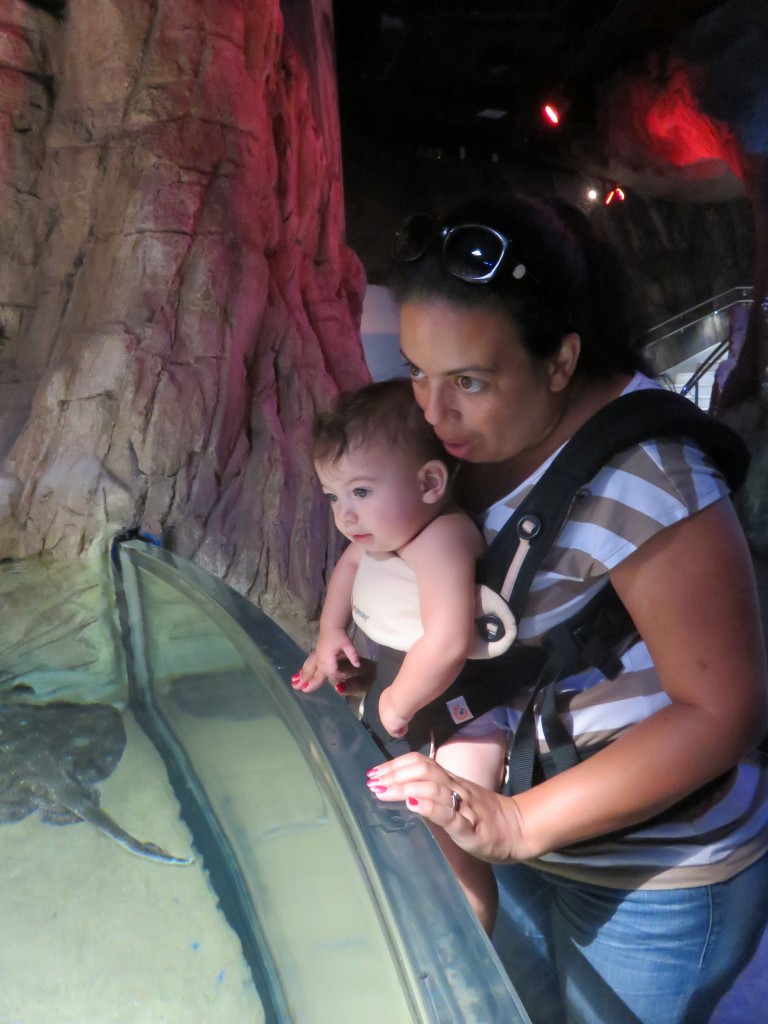 My son was 9 months at the time of testing, and I feel very in tune with him. Feeling confident in my abilities to read him, I decided to forgo "start with 5 -10 minutes" limit guideline provided, and really put several factors to the test. Now I need to add a disclaimer here that I suffer from Diastasis Recti (abdominal muscle separation), back and pelvic pain, and whiplash. I will not deny I was extremely wary of front-forward carry. Please be aware that Ergo specifically state "We view the front-outward position ('facing out') as a supplementary option for short, active periods and not as the primary carrying method over multiple hours." (It is recommended that the instructions, as well as the FAQs, are read thoroughly before using the Ergo 360.)
Getting the 360 set up for front forward was really easy and straight forward. Wearing the waist band was easy enough, although it took a few tries to get it just right. Having the strap and buckle over it felt reassuring. Getting baby in was quite funny. He is clearly not used to the front-forward position and immediately tried to turn himself into his usual worn position. Once he figured out this was different, he was quite amused. I followed instructions at first, and kept his arms under the straps and out of the side. He really hated this and within 5 minutes had figured out how to pull them out and over the front. Now I think this may have been more comfortable for him, but it clearly shifted his weight, and therefore my centre of gravity, and I felt the strain a little more. He was much happier this way. By this point, we had renewed our membership and were heading into the Aquarium.
Although it is generally much cooler inside the exhibit, the 360 is much thicker than the average ergonomic carrier, and I soon had to remove his t-shirt. To be fair, this was the height of August too.
My son got very excited to see the fish and being able to reach out and touch the tanks. He jumped with delight several times, which put a strain on my back. When we got half way through (some 25 minutes at this point), I was starting to feel some pressure in my lower back. Not significant, mind, so I decided to carry on. Barely few minutes after I noted my discomfort, my son started exhibiting signs of hyper-stimulation. At this point we were at my favourite exhibit: an enormous window into the shark tank. It is super area because there are crates to sit on. I really feel that should the Aquarium open up that area as a mini café, I would be down there working from there every day. So peaceful…but I digress.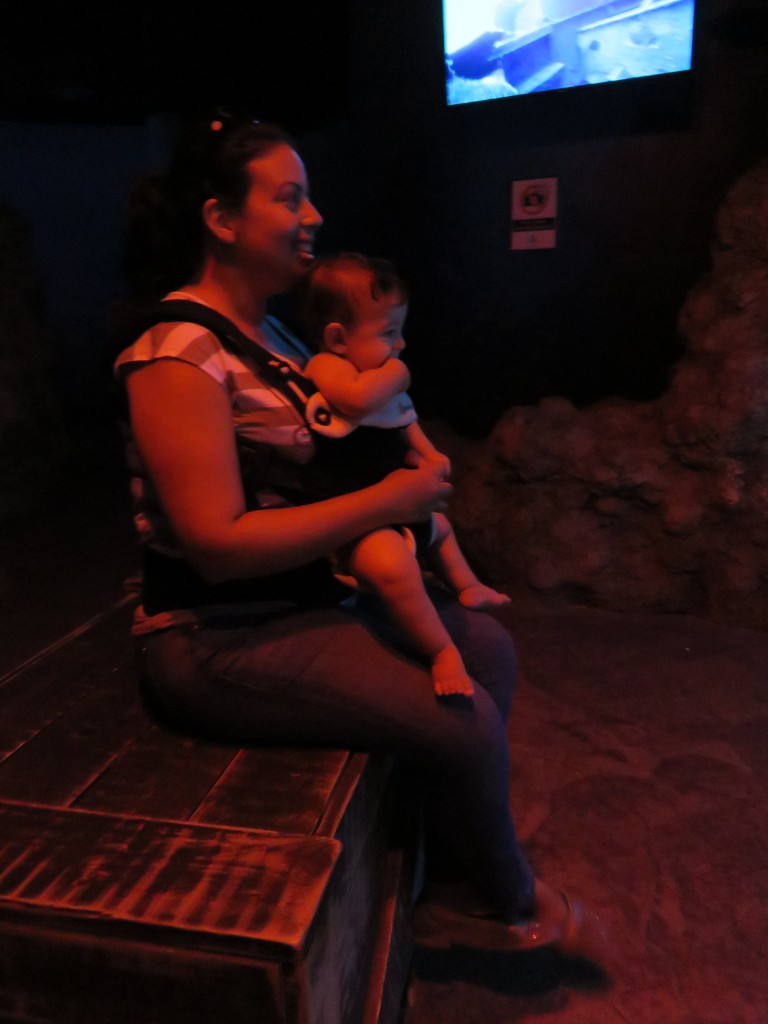 We sat on a crate and I cuddled my little one still in his forward facing position. But I could lean forward and allow him to see my face. Now sitting down with baby on you in the 360 is smashing. I absolutely loved it. I can imagine going out for coffee or light lunch, with baby in front-forward in the 360. Big huge big over everything and let him get stuck in. Heck, I'm looking forward to trying that. How many times do you go out with a buggy or ask for a highchair and baby ends up in your lap anyway? With the 360 there would be no straining to hold them into place and they are in a comfortable sitting position, as are you. I absolutely loved it. No more, no less.
We spent our usual 10 minutes at this exhibit and then moved on. Baby started straining to turn around and this was a great opportunity to test the hype on how easy this was. So back clip off, straps off, while supporting baby of course. Turn baby front –inward, straps on, back clip on. Button left. Button right. A little bit of tugging here and there to make sure seat is maximised well, and a little bit of adjusting baby's bum…and done. Easy peasy. If I were to go from front-inward to front-outward, I would close up the seat first, then turn baby.
Verdict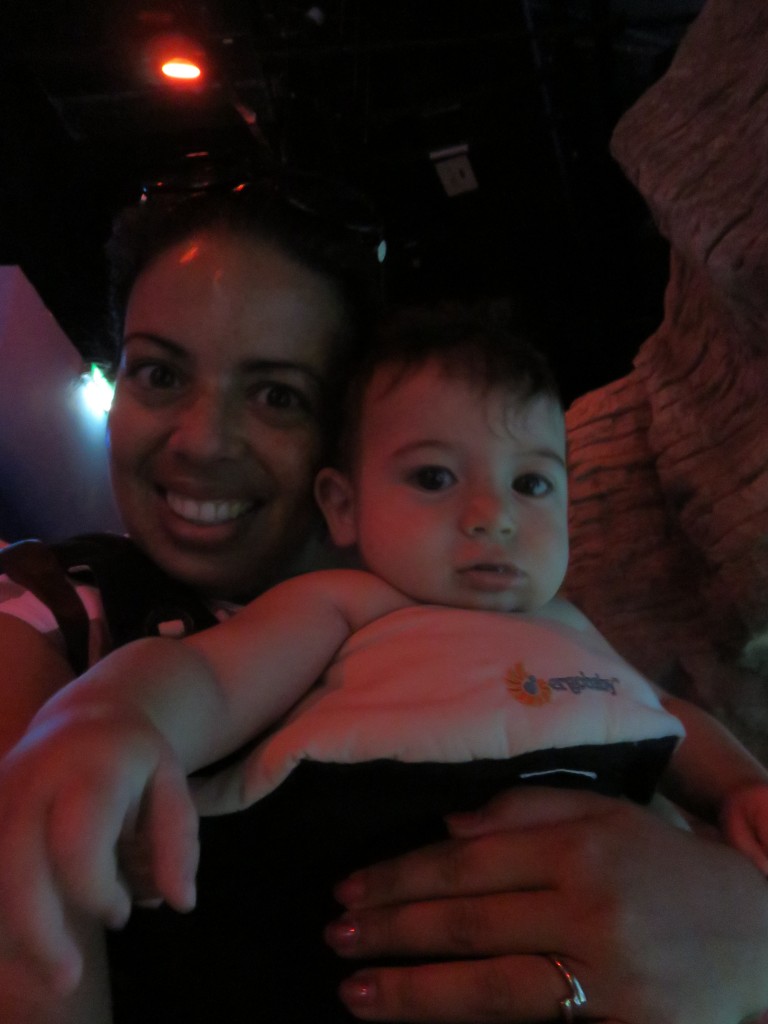 Pros: Highly adjustable, easy to use, comfortable, ergonomic front-forward with some restrictions but overall lived up to the hype.
Cons: Much thicker than your average ergonomic carrier, and slightly narrower seat width reduces its upper weight limit.
My baby now appears ready to start short stints in back carry. As he is still young (10 months), I will be using the hip scoot method. I look forward to seeing how this will work with the Velcro waist band. Stay tuned!
The Ergo 360, along with the full Ergobaby range, is available from Maltamum via www.maltamumshop.com
*Becky Gauci Maistre is a Baby Wearing Educator and owner of the Baby Wearing Malta Facebook group that currently counts over 1,000 members. Becky is a founding partner of Parenting from the Womb. She is also the founder of Tree of Life which provides childbirth education, post-partum doula services, support for birth trauma mothers, healing from a traumatic birth experience, preparing for birth after a traumatic birth experience, support for VBAC (vaginal birth after caesarean) and CBAC (caesarean birth after caesarean), hosts the local chapter of Momma Trauma's Sacred Circles and is a co-founder of the Better Birth Coalition – a member of the Positive Birth Movement.
Category: Guest posts, Shopping