[kkstarratings]During the last few months I've been reading many books about babies and pregnancy, and the most useful ones by far seem to be the ones of the series What to Expect
from the author Heidi Murkoff.
The What to Expect books might not be visually satisfying compared to other ones which are full with colors and pictures -and hardly any info that one cannot find online!-. They are not printed in glossy paper and they do not feature nice, colorful pictures and art. They are printed in black and white, they are stuffed with useful and well researched material, LOTS of words and LOTS of pages, where a parent can turn to for every little question he might have.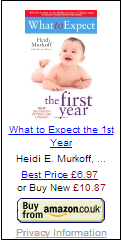 I am currently reading What to Expect the 1st Year and, allow me the metaphor, it is to new mums what the Lonely Planet books are to travelers. Damn useful! You don't get to read everything at one go, you don't need to, but you do know that if a situation arises, lets say breastfeeding related issues, in which section to turn to.
As another example, something that I wouldn't think of since I am not holding a baby -yet- in my arms, and thus I cannot imagine all the potential situations that I am going to find myself into, is the following: there is a section in the What to Expect the First Year book, in the 1st month of the baby's life section, about the color and the texture of your newborn's poo. By reading this section, as a new parent, you can right away distinguish in between what is considered as normal disposal and what should make one rush to the hospital!
I bought this book in Malta at a local book store in Sliema (at Plaza) and I paid around 30 Euro. It is much cheaper to buy these books online, and used is also an option, on Amazon
.
All the other books in the series are also receiving excellent reviews:
Which are your favorite books related to mums, pregnancy, kids, nutrition and/or childcare?
Category: Mum's Library