[kkstarratings]At the moment I am wondering how Erik is going to look like. During the first months, when we didn't know the gender, it was hard to picture him as a "baby". When we found out that he's a boy, it was hard to imagine how he might look like. Most probably because we're a mixed couple and he can literally be whatever. Except from tall. That's the only trait that we have in common from both family sides and ancestors.
You see, the father is a red-head Norwegian, with fair skin, freckles and blue eyes, coming from a family with no gingers for as far back as his parents can remember. It is rumored that the grandfather of his grandfather from his father's side was a ginger. They all have blue eyes though. Me on the other hand I am a Greek red-head with Mediterranean skin (white that turns brownish in the summer), just a tiny little bit of freckles on my nose and brown eyes, coming from parents whose colors range from the very dark ones that one can find in the island of Crete from my father's side and pretty whitish with dark brown hair and eyes from my mum's side. The red hair comes from my grandma's grandma  from my mum's side.
Here's a picture of Roy and me.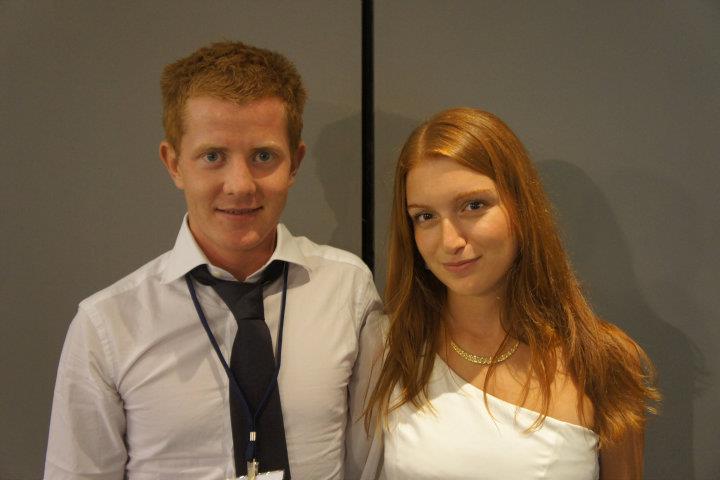 A good friend of ours and graffiti artist,
Platon
, made a painting and gave it to us as a present; a representation of how he thinks little Erik is going to look like. You can see it below. It's a cutie.
What do you think? Is Erik going to be a ginger? We take bets 🙂
Category: Countdown to Erik's birth