The MADC spins 2 fairy tales into one Panto this year, with Rupunzelstiltskin, at the MFCC.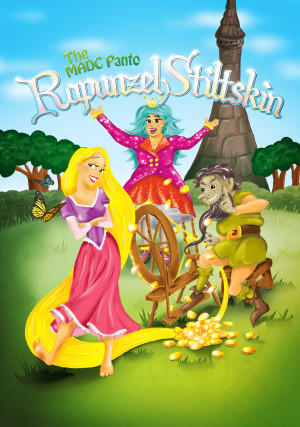 Two of the most famous fairy tales of all time have been tangled up, intertwined and generally mixed together to give you RapunzelStiltskin.
This is the story of the beautiful Rapunzel, a sparkling, bubbly girl, who ends up in big trouble because of her mum – the unrestrainable, uncontrollable, and slightly unhinged dame who has a unique talent for really, really putting her foot in it! Add to the mix a creepy Rumpelstiltskin, a funky fairy, a terrifying witch, Rapunzel's BFF Fudd, a hip-hop heart-throb, a self-made lingerie tycoon and more henchpeople then you can shake a hairbrush at, and you can see why this is tale like no other!
Click here to read more and book your tickets.
Dates
Sat, 21 Dec 2013, 20:00 at  MFCC
Sun, 22 Dec 2013, 20:00 at  MFCC
Mon, 23 Dec 2013, 20:00 at  MFCC
Thu, 26 Dec 2013, 20:00 at  MFCC
Fri, 27 Dec 2013, 20:00 at  MFCC
Sat, 28 Dec 2013, 15:00 at  MFCC
Sat, 28 Dec 2013, 20:00 at  MFCC
Sun, 29 Dec 2013, 15:00 at  MFCC
Sun, 29 Dec 2013, 20:00 at  MFCC
Mon, 30 Dec 2013, 20:00 at  MFCC
Thu, 02 Jan 2014, 20:00 at  MFCC
Fri, 03 Jan 2014, 20:00 at  MFCC
Sat, 04 Jan 2014, 15:00 at  MFCC
Sat, 04 Jan 2014, 20:00 at  MFCC
Sun, 05 Jan 2014, 15:00 at  MFCC
Sun, 05 Jan 2014, 20:00 at  MFCC
Category: Past events