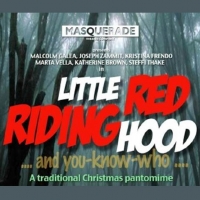 Little Red Riding Hood and You Know Who…… -> Starting Sat 21st Dec – Various shows – till Sun 5th Jan 2014.
Following hot in the heels of its highly successful pantos Jack and the Beanstalk (2008), Aladdin (2009), and The Curse of Snow White (2012), the inimitable Masquerade is back once again with a hilarious Christmas offering as it brings Little Red Riding Hood & You Know Who to be staged at Teatru Manoel.
Written by Malcolm Galea and directed by Anthony Bezzina, Little Red Riding Hood & You Know Who will also have musical direction by Kevin Abela, choreography by Lee McCallion, and costumes by Ernest Camilleri. Additionally the pantomime will feature a star-studded cast of panto favourites led by Malcolm Galea as dame, and a whole host of other fantastic actors that will ensure that this year's Christmas panto at the Manoel will be yet another testament to Masquerade Theatre Company's reliably high standards.
DETAILS
Producer: Masquerade
Recommended Age: 3 yrs & over
Length: 3h
Venue: Teatru Manoel
Price: €25 – €22 – €20 – €14
Click here to book your tickets.
SCHEDULE
Saturday, 21 December 2013
20:00
Sunday, 22 December 2013
20:00
Monday, 23 December 2013
20:00
Thursday, 26 December 2013
15:00 & 20:00
Friday, 27 December 2013
15:00 & 20:00
Saturday, 28 December 2013
15:00 & 20:00
Sunday, 29 December 2013
15:00 & 20:00
Monday, 30 December 2013
15:00 & 20:00
Thursday, 02 January 2014
20:00
Friday, 03 January 2014
20:00
Saturday, 04 January 2014
15:00 & 20:00
Sunday, 05 January 2014
15:00 & 20:00
Category: Past events