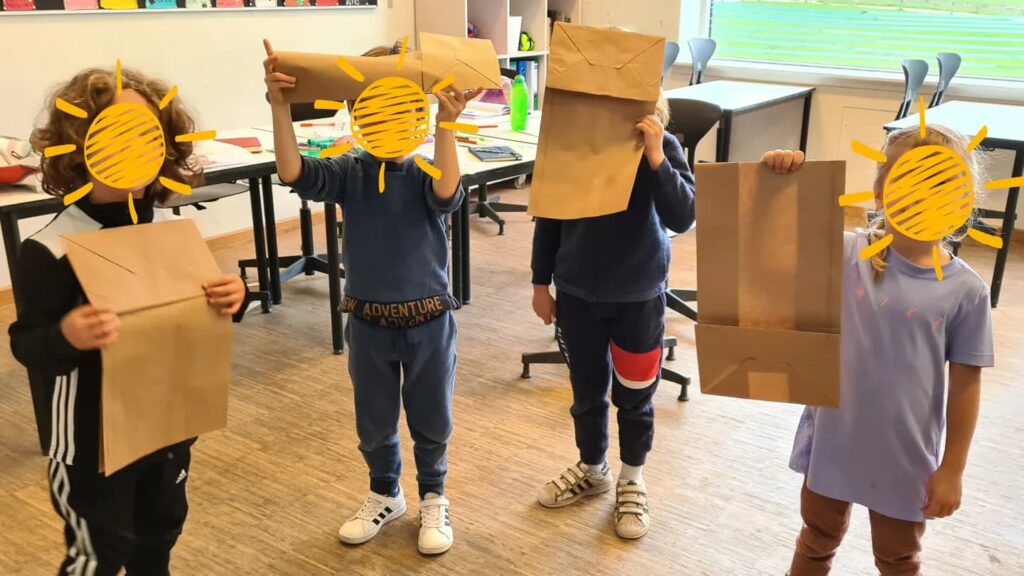 Hi friends, I'll separate this blog post into different sections cause there's a lot of news to share.
1) A very special moment


First of all, I'd like to share something that happened a couple of days ago. It's a very special moment when you find out that people are reading and working with your books in language schools without you having had any involvement in the process. This is the event I'm referring to.
There's no mention of the author or the illustrator, no tags, and the only thing highlighted is the book itself, which I personally find amazing; it means that the book is doing its job! This teacher somehow discovered the book "Happiness Street" and loved it enough to bring it to school.
I've been hustling a lot with marketing since I started publishing my books, pushing the boulder uphill so that the books get a chance to be discovered, and now it feels that I might have reached the point where it can start rolling downhill. I do hope that in time, I will be able to work less on marketing and more on writing.
2) PDFs with activities for all my bilingual books
Lesson plans and activities for kids based on my books Cousins Forever, Happiness Street, and Nelly's Box. You can find everything here.
3) Nelly's Box – more bilingual editions will be published next week!
Languages: Irish, Norwegian, Danish, Japanese, Filipino/Tagalog, Vietnamese, Polish, Turkish, combined with English.
4) New bilingual book coming by the end of the spring
This one is going to be the 4th and longest one in the series (close to 1,000 words) and it's a summer story where the central character is the grandfather; a caring, loving, modern, and full of life grandfather who's waiting for his family -and more specifically the grandchildren- to come to find him for holidays on the island.
I'm still struggling with finding the perfect title, but the story is ready! I'm aiming to publish it in the first bilingual editions before the summer holidays, ideally by the end of spring. I don't feel comfortable sharing the whole story, publicly, in a newsletter or blog post, but I am sharing it in the small, closed FB group I have for my readers here. I'd love to have you there as well if you'd like to join the conversation and share your feedback.
5) Svitlana Holovchenko, the artist who's illustrating my new book


Svitlana has lived in multiple cities and countries throughout her life, she's Ukrainian, based in Germany, and speaks Ukrainian, Russian, and German. I've been following her for a long time, and I've fallen in love with her watercolor artwork. I'm attaching some previous works of hers so that you can see her talent. I am honored that she accepted and that she will be the one illustrating this book. The following are photos of watercolor art she created recently for other clients.
Click here to read an interview she has given in the past and get to know her better.
6) Public libraries


A random google search resulted in finding und out that books of mine are available to borrow at the Iowa City Public Library, USA! My best guess is that a patron placed a request and the library purchased them. I shared this on FB, which resulted in even more findings, and insightful comments! My books are also available in Colorado libraries, Eagle Pass Public Library in Texas, and probably more. I'd guess you can also place a request, if you'd like to, at your local library.
7) TeachingBooks
Another interesting finding is that "Happiness Street" in EN-ES has been included in the TeachingBooks platform as recommended material, including resources to be used in a classroom setting. TeachingBooks is primarily used in the PreK–12, public library, and academic settings. It debuted at the American Library Association convention in San Francisco in June 2001 and began selling licenses in November 2003. Here the kids can play a book cover jigsaw with the "Happiness Street" book cover (this game is free and open to the public).
8) Happiness Street review
I'll close this email with a lovely review I discovered in a blog, about the same book, "Happiness Street". You can read it here.
I wish you a lovely weekend! I'll end this blog post by sharing a photo of a magical sunrise from a couple of days ago in our city, Horten, Norway.
Category: Uncategorized