Hi everyone,
I hope you're doing well and enjoyed the Easter holidays :). Here, we've had our first round of celebrations, and now we're getting ready for the Greek Easter. The kids have started school again after about a month of being at home (we've been amongst the lucky ones with schools open for the most part during the pandemic), we've had some lovely sunny days, spring weather, and today… believe it or not, it's snowing! This is what I see right now while writing this email…
Perfect weather for writing, right? You see, I have some good news to share!
a) No.1 'most wished for' book in Canada!
On the 5th of April, my new children's book Cousins Forever was listed as the No.1 today 'most wished for' book in Canada under the French instruction category! I'm feeling so grateful, and so incredibly happy that your families find value in the books I create.
b) New bilingual editions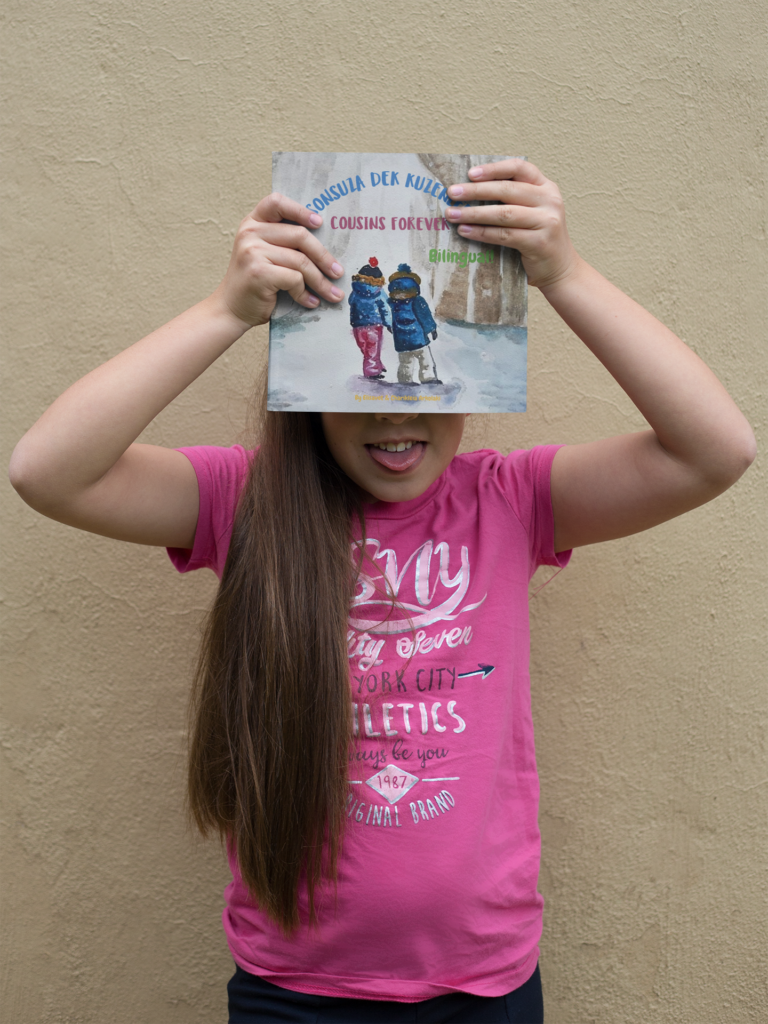 Books wise everything has been going great, so I went ahead, invested and published more bilingual editions. I'm committed to create bilingual picture books with beautiful illustrations and good stories for our families – books that not only foster language learning, but also inspire kids to be creative. The bilingual books are currently available in English + Albanian, Czech, Danish, Dutch, French (France), German (Germany), Greek, Italian, Japanese, Korean, Mandarin Chinese, Portuguese (Portugal), Polish, Russian, Spanish (Spain), Turkish, and more to follow. Is your language missing from the list? If yes, hit reply, and let me know. Depending on demand, I'll keep on publishing more.
"Happiness Street" is a heartwarming story about a summer spent at Grandma's and the promise of coming back again. The story promotes creativity and the use of art and words as a medium for children to express their emotions.
"Cousins Forever" is a book about family, languages, distance, online communication, and creative young children. It includes an interactive element, urging children to connect with their loved ones online, via a fun game that involves swapping words and paintings/drawings.
These are the new editions:
English-Danish Cousins Forever
English-Dutch Cousins Forever
English-Japanese Cousins Forever
English-Korean Cousins Forever
English-Mandarin Chinese Cousins Forever
English-Russian Cousins Forever
English-Turkish Cousins Forever
c) Where am I from? – Memories and behind the scenes photos


This one came up in my FB memories feed. About 2 years ago, Platon, street artist, completed painting the very first mural of the concept book "Where am I from?" He painted our book character Eva (whose name in real life is also Eva) on the wall of a public primary school in Athens, Greece. The artist and the kids had so much fun interacting with each other during the process. Some kids were trying to touch the little girl and her bathing suit, another one commented that this was the most beautiful thing he had ever seen, a third one guessed, correctly, that the shapes around the seagulls represent movement, the fluttering of the wings ❤ Can you guess the country featured? Click here to see more photos from this graffiti and here for all the murals.
d) Video read-aloud of my books
(this is a photo of a teacher in Italy, shared with permission)
As some of you know, and others will find out now, live online events, cameras, live interviews make me feel very uncomfortable, stressed, to the point of panic. If I am to do a public speaking, for instance, I need to mentally prepare myself for days and spend tons of hours of practice in front of the mirror.
I'm not a good speaker (I'm a writer 🙂 ), and I am not a fast thinker, which makes me feel very self-conscious and stressed during live and public events if I am to be the center of attention. When I decided that I would start my journey in publishing, I realized that I would have to do that a couple of times. Still, I try to keep it to the absolute minimum.
This is the only interview I've given so far in video format, and there's a full read-aloud of "Where am I from?" by me. If you'd like to, you can share it with your children's school teachers, and/or if you're a teacher you have my permission to share it with your students.
And this one is a read-aloud of "Happiness Street" first in Greek (by me, native speaker) and then by Dawn (US EN native speaker) which you can also share if you'd like to.
I'm planning to prepare something similar for "Cousins Forever" as well, so that there's at least one video available for you.
You also have my permission to read my books online for your students, but I would like to know where/how they get shared online. Please, get in touch :).
e) FREE book "How to Raise a Bilingual Child" now in more languages"


A while back I applied and got accepted as a volunteer ambassador at PEaCH. In brief, it's an Erasmus+ funded project that supports European families raising bilingual and multilingual children. All the resources on their website are available for free to support us, and also educate further the teachers and caregivers who work with and care for multilingual children and families. Click here to download the guide "How to Raise a Bilingual Child". It's available in English, Spanish, Italian, German, French, and Romanian for now, and more languages will follow. It's exceptional and I promise you will find it practical and useful. The people who wrote it have lots of years of academic research and practical experience in the field. I worked directly with three of them in the past, and they contributed with full chapters to my guide book How to Raise Confident Multicultural Children.
f) And a question…


You might remember this book mine, a photo book with a short love story for adults. Would it be a good idea to publish it in bilingual editions, as a way to say "I love you" to someone we love in his/her language + English (common language for many couples of mixed ethnicities)? Please hit "reply" and let me know – yes or no?
That's all for now.
Thank you for reading, and wish you a lovely week ahead ❤.
PS. I'm more active on FB. I have a small, closed group if you'd like to join me there as well.
Category: Uncategorized