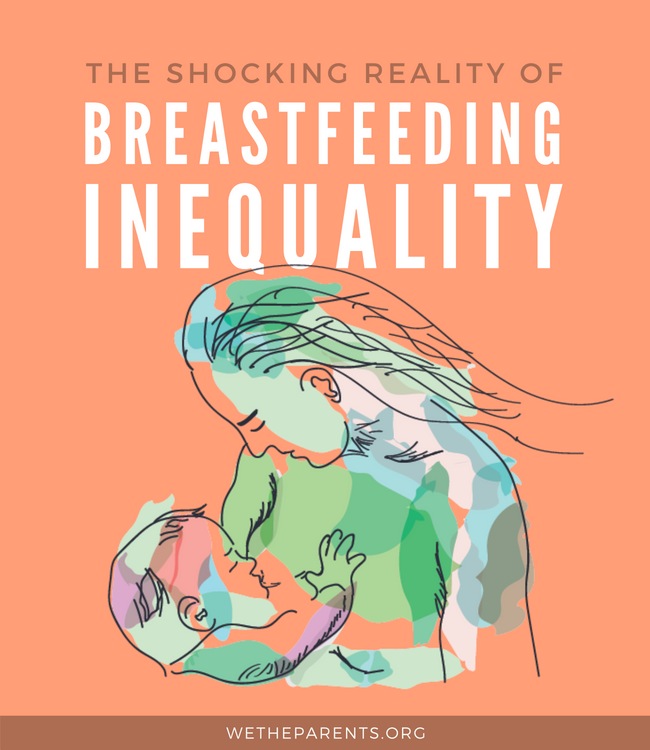 Guest blog post by Neve Spicer* 
Break out the balloons and hang the streamers, it's Breastfeeding Awareness Month! It's the season to celebrate mothers, babies, and the beautiful bond that nursing creates between them. Best part? No shopping, no wrapping, no returning, no exchanging; it's all about you and your child.
Unfortunately, you do still have to get up early. Afterall, that beautiful baby ain't gonna feed herself.
But here's the thing:
In reality breastfeeding doesn't always feel like a party. There are clogged ducts, sleepless nights, and teeth. Oh god, the teeth…
Despite the (sometimes painful) let-downs of breastfeeding, the human race as a whole agrees that it is the healthiest way for babies to get their nourishment. Your breast milk represents a virtually perfect, easily digestible mixture of antibodies and nutrition. Well duh, you might be thinking, we've all known that for a while.
Would it then surprise you to learn that in the US 68% of financially well-off mothers will breastfeed their baby for six months, and yet only 38% of mothers living beneath the poverty line will do the same? (source)
This huge disparity is echoed in the UK and most European countries, too. The repeating pattern is that less well-off mothers have significantly lower breastfeeding rates.
WeTheParents has created a startling visualisation that delves into the socioeconomic factors that drastically shape inequalities among mothers and breastfeeding rates.

Highlighting these disparities isn't about shaming mothers – precisely the opposite. It's about looking hard at the socioeconomic factors causing the problems. It's about dropping the notion that all moms have the same breastfeeding opportunities and choices. They don't.
As a blogger, I unfortunately got caught up in the mommy wars, and chose to rant about why breast was best. Yes, this is a valuable message, but the real issue isn't whether well-off, well-informed mothers choose to breastfeed; it's that less well-off women aren't getting access to invaluable breastfeeding support.
Here are just a few reasons that less well-off mothers find it more difficult to reach optimal breastfeeding goals:
Less access to paid maternity leave

Lower paid jobs that are less likely to allow for pumping breaks

Inadequate maternity and lactation support in hospital

Less effective family and community support

More susceptible to formula marketing

A culture that may not unconsciously treat breastfeeding as a desirable status symbol
Tackling these issues will be no mean feat. But mothers, let's come together around a goal that we can all agree on: that all mums from all walks of life should have equal knowledge, opportunity, and support to breastfeed (if they want to).
When I discovered the data highlighting breastfeeding inequality I had to ditch my lactivist tribalism. I still consider myself a breastfeeding activist, but my aim now is to help re-frame the debate and make it less divisive. It's time to stop the mommy wars. Instead, let's unite and focus our collective energy upon the socioeconomic forces that are powerfully affecting breastfeeding outcomes.
Change always begins with awareness and conversation. Mamas, let's do this!
———-
*Neve Spicer is a reformed (and now more empathetic) breastfeeding advocate and proud mother of two. After seven years of full-time teaching, Neve decided to take her passion for kids, education, and parenting online by founding We The Parents, a parenting resource and blog that searches for simplicity and humour in family life.
Category: Guest posts