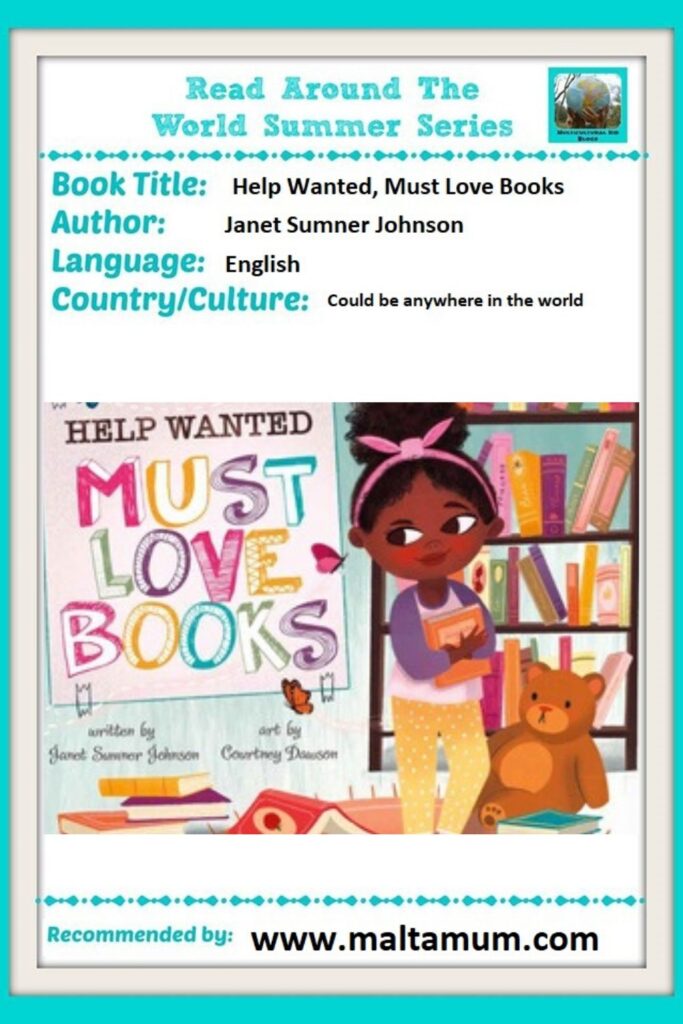 This June marks the 7th annual Read Around the World Summer Reading series by Multicultural Kid Blogs. Last year I presented you with the book My Two Blankets, and this summer I would like to introduce you to a super cute book titled Help Wanted, Must Love Books, and the writer Janet Sumner Johnson. This year's presentation is unique, cause I managed to get to interview the author for this feature!

Janet's adorable book is about a little girl who loves reading books as part of her bedtime routine. When her Daddy falls down on his book reading responsibilities, Shailey 'fires' him and starts interviews to fill the position. Lots of iconic book characters try to get the job, like Pinocchio, Cinderella, Alice, the Sleeping Beauty, the Giant, but they all fail miserably! The best applicant for this role is, of course, Daddy, but he must agree that work-related stuff is off-limits during bedtime stories.
Back cover description: When Shailey's dad gets a new job, she loses her bedtime reading partner. She immediately starts interviews to fill the position and is thrilled when her favorite fairy tale characters line up to apply. But Sleeping Beauty can't stay awake, the Gingerbread Man steals her book, and Snow White brings her whole team. Shailey is running out of options. Is bedtime ruined forever?
Let's get to know the author :).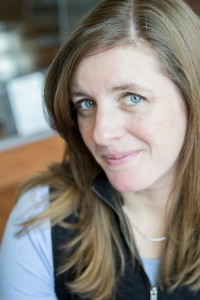 Janet Sumner Johnson lives in Northern Utah with her husband and three children. She sings in the shower, attends dance parties in her kitchen, and ruthlessly beats her kids at card games. Her first picture book, Help Wanted, Must Love Books released in the spring of 2020 (Capstone), and she is also the author of The Last Great Adventure of the PB&J Society (Capstone, 2016), a middle-grade novel. You can visit her website at janetsumnerjohnson.com.
Janet, how would you describe yourself in 10 words?
Book-reading, soccer-loving, cookie-eating, piano-playing perfectionist mom.
How did you get started with writing your first book?
In college, I got really bored while visiting a roommate's home one night and began writing. It was terrible but so cathartic and so FUN. I didn't finish it until years later, but that first moment gave me the writing bug.

What do you wish that children will take out of your book?
I hope they will learn to stand up for what's important to them.

Can you tell me some of your strengths that really helped you in getting your book published?
1) Tenacity. I kept writing and working even after a lot of rejection.
2) Imagination. I love imagining worlds and people. That made all the difference when writing and creating a story, and
3) Reading! I have been reading since I was four, and reading teaches you so much about writing.

What was your greatest failure and what did you learn from that?
Great question! In college, I wanted to play soccer for the university. I worked really hard all summer (and you know, years and years before that) to prepare. I went to tryouts hopeful and excited, but after a week, I was exhausted and scared: Scared I wouldn't make the team and scared that if I did, I wouldn't be able to keep up with my classes. So I didn't go to the last day of tryouts. My biggest failure is that I quit because I was scared. I learned that caving in to fear doesn't get you anywhere. I still regret that I quit.

Tell me about your proudest achievement.
Getting published! This was another moment where I worked really hard for something and was scared I wouldn't succeed. But this time I didn't quit. I kept going even when it felt hopeless. And you know what? I did it!! It's an amazing feeling.

Who do you admire most and why?
My mom. She was the first in her family to get a Bachelor's Degree and the first to get a Master's Degree. In her forties, she went back to school to become a principal. It was hard, and I know there were times she wanted to quit. But she didn't, and she made a huge difference in a lot of people's lives at the school where she became a principal. I really admire that she isn't afraid to do hard things.

If you could travel back in time and give advice to your teenage self what would that be?
I would tell myself to work at being less shy and more liberal with compliments. I wish I had been able to be more outgoing and to spread more kindness.

If you could know the absolute and total truth to one question, what question would you ask?
This is hard! I'd want to know things like: What happened to Amelia Earhart? What happened to the crew of the Mary Elizabeth? Who was Jack the Ripper? But I would probably go with something more meaningful, like How can we cure cancer?

What is the funniest thing that has happened to you recently?
Just yesterday (June 14th), I completely thought it was Father's Day. I went shopping on Saturday for presents, got up early to make breakfast in bed for my husband, woke my kids up to help with it, and did all the things! I had no idea it's actually next week (June 21st), until my husband sent off some "Happy Father's Day!" texts and got some confused replies. We laughed so hard. (And in case you're wondering, we agreed to just call it good and not celebrate again on the 21st. LOL!)

How can we introduce the love of reading to our youth?
Reading to youth is always a great way to share the love of reading. Even reading to older kids. I loved it when my mom read to me, even as a teen. Other ways could be reading books yourself and then talking about books that you loved with them, or about books they might love.  

What would you advise young kids and teenagers who love books and would like to publish their own?
Three things.
1) Read, read, read! If you aren't reading current books and know what is being published, it'll be hard to write a book that will be published.
2) Write, write, write. The more you write, the better you become, and
3) Find people who are willing to read your writing and give feedback. And learn to listen to the feedback and not get upset.
There's a lot more to learn about ways to write, but those three things are the most important when you are just starting out! 

What is your vision? Where do you see yourself in 5, 10 years from now?
In terms of my job as an author, in 5 – 10 years from now, I see myself as having several books out. Both longer middle grade, and picture books. I see myself as working with newer authors to help them learn about writing and publishing. But I also see myself as a grandmother, enjoying my kids and my grandkids (and getting all the inspiration for new books from them!) 

How can the readers get in touch with you and where can they find your latest book?
The best way to get in touch with me is through the "Contact Me" page on my website: janetsumnerjohnson.com. I'm also on Twitter: @MsVerbose, Instagram: @janetsumnerjohnson, Facebook: @janetsumnerjohnson
My book is available through Amazon worldwide (Amazon.com link https://www.amazon.com/dp/1684460751), Book Depository (https://www.bookdepository.com/Help-Wanted-Must-Love-Books-Janet-Sumner-Johnson/9781684460755), Bookshop.org in the U.S.: https://bookshop.org/books/help-wanted-must-love-books/9781684460755 and many bookstores.

Category: Uncategorized