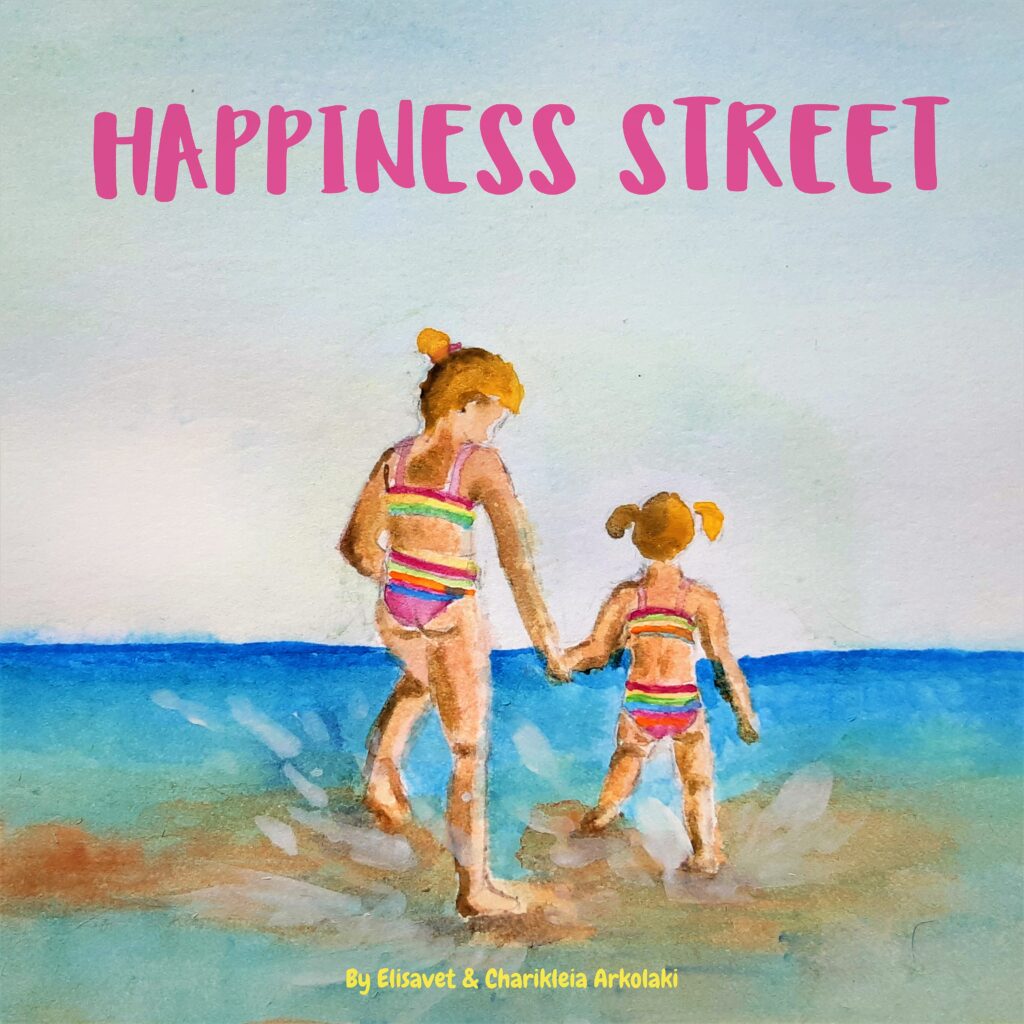 Hi friends,
With so much happening in the world, I have been processing many emotions. On a personal level, we lost my closest friend's father in Greece during the coronavirus pandemic, and shortly afterward, her baby was born. We won't be able to see them, my parents, and many other loved ones, for the unforeseeable future. These events have awakened a strong desire to write a story to process and channel these mixed emotions into something creative and beautiful.
The creative process of this book occurred in reverse. Typically, one writes a story, and then an artist illustrates it. In this case, I needed prompts to inspire me and to get the words flowing. My sister, Charikleia Arkolaki, painted some charming and nostalgic watercolors a while back. Inspired by her creations and my raw emotions, I put the paintings together in a sequence through storytelling. This is how I wrote "Happiness Street," which is all about a childhood summer spent by the seaside with Grandma.
When I was 5-12 years old, my sister and I spent the summer months at a dead-end street called "Happiness Street" in Loutsa, Greece, which burst with children's laughter and games. We'd stay there with my godparents and my godmother's brother (who was also our great uncle; they were relatives who didn't have kids), who fulfilled the role of grandparents until our parents would get some days off from work. It is very typical in the country where I grew up for kids to stay with extended family and enjoy the summer holidays in the countryside while the parents are working as usual. I have the fondest memories from those summers, and I loved these people beyond measure.
With so many of you feeling the same ache for travel to spend time with your loved ones who live far away, not to mention the kids who long to see their grandparents, I knew that I had to release this book now, during this chaotic summer. I initially wrote it in Greek, which is my native and emotional language, and then I translated it to English and sent it out for proofreading. I am waiting for the hard copy files to be approved, and then the books (English, Greek, and English-Greek editions) are out in the world.
The English eBook edition will be my free gift to you, which is free to download until the 18th of June https://www.amazon.com/dp/B08B1P68YL/. If you don't have a Kindle, you can always download the free Kindle app on your tablet, smartphone, or computer and enjoy the book.
Other editions:
Happiness Street in Greek https://www.amazon.com/gp/product/B08B1PJWBN/
Happiness Street bilingual book in English and Greek https://www.amazon.com/gp/product/B08B1LHZWP/
Would you like to see the same story published in another bilingual edition? If yes, hit reply and let me know. If I get many requests per language, I might do it.
Thank you for supporting my work <3.
Till next time,
Take care.
//Elisavet Arkolaki
Category: Uncategorized