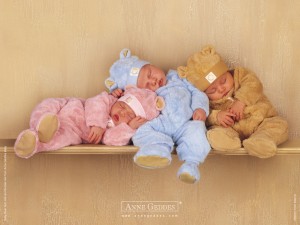 You have been given a list from the hospital with all the things that they you need to take with you. But, there are a few more that can make your stay in the hospital even better.
Extra pillows – you will be given one, if you're lucky two. Most probably this won't be enough to help you feel cosy and at ease after having given birth.
Extra blankets – I gave birth in the summer and I was freezing in the room where I spent 3 days with my baby (the delivery suite was fine). It could be because the body temperature drops after giving birth. The air-condition temperature was standard for the whole ward so the only way to warm myself up was extra blankets. It could be that it's super warm and nice in the room during the winter, but in any case your own blanket will always feel better and more cosy.
Water and snacks – if you happen to go to the hospital in the evening, the cafeteria will be closed. Be prepared.
If you breastfeed and you happen to get sore or cracked nipples, ask the midwives for a soothing repairing cream. They gave me a sample while I was there. If they have no samples at the time, you can always send someone to buy it for you at the pharmacy in the hospital. The one they recommended was Cicaplast Baume B5, La Roche-Posay. OR ask them to help you express by hand some milk and rub it on your nipples. I found this difficult since I had almost no milk in the beginning, that's why I went for the cream.
Have cotton balls with you. My baby hated the baby wipes, although I bought hypo-allergic ones without alcohol. He cried hysterically when I used them and he got a nappy rash a few days later. You never know how your newborn will react.
Bring your own food – chances are that you're gonna hate the food (the breakfast on the day after I gave birth was white toast bread with a slice of cheese!) AND you might have super cravings like when you were pregnant. I was craving fruits all the time while I was in the hospital (and for several weeks after).
Some other advice based on my experience:
Chances are that after giving birth you will be exhausted. And if you decide to breastfeed, you might get a "break" to rest during the first 24h from your little one, but after that he will most probably require to be in the breast non-stop. I remember that I was literally falling asleep on the armchair, and that was dangerous. One of the midwives saw me and helped me do the following -> the beds have some kind of steel fences on both sides. A midwife can help you to pull it up, put 1-2 pillows in place, put your baby there lying on the side with his back on the pillows. In this way the baby can breastfeed while you take a well needed nap.
You might consider to limit the visits, or ask for no visits at all while in the hospital, and only ask your partner/mother/father to be there and help you during the day. It might be too much for the newborn and exhausting for you.
Category: Resources for Malta Mums