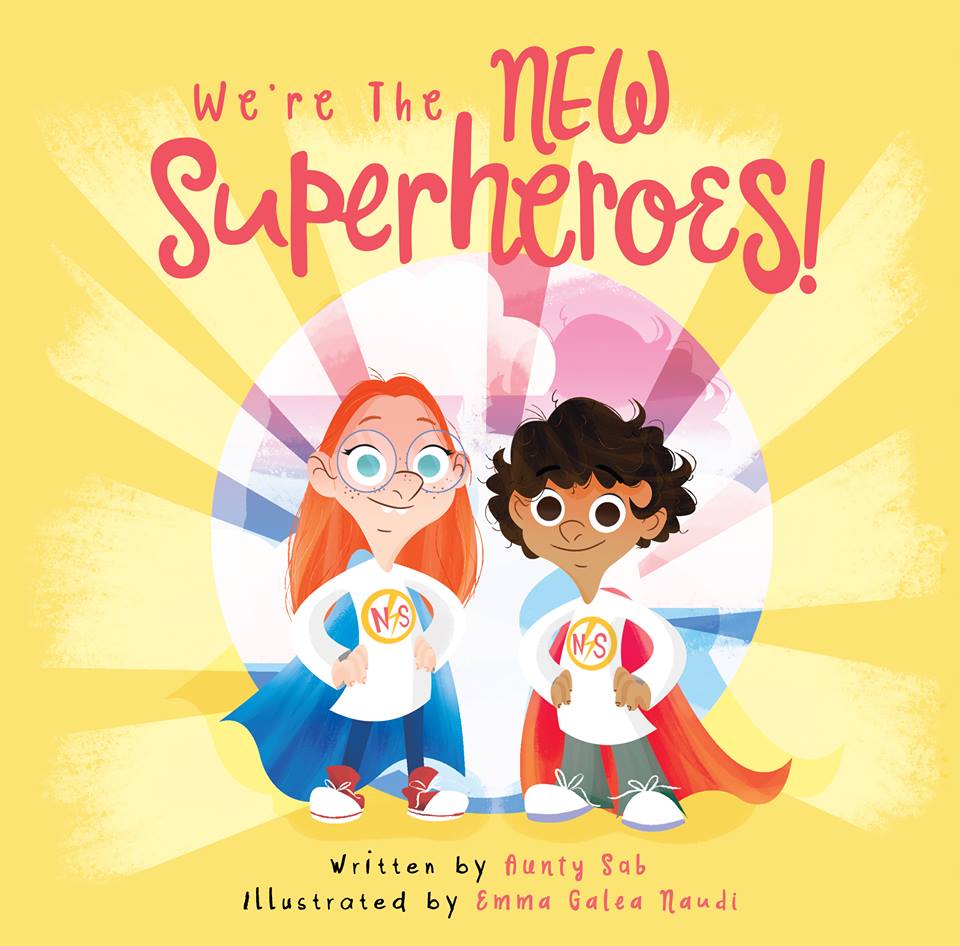 'We're the new superheroes' is a picture book for little heroes with big dreams! It has been written out of love in order to empower kids; to show them that they, too, each and everyone of them, have super powers which make them just as bold and brave as their favourite superheroes! The book has been written by Aunty Sab, illustrated by Emma Galea Naudi, and Published by Faraxa Books.
What inspired you to write 'We're the new superheroes' ?

It all started two years ago. My life coaching course gave me a great gift – the ability to observe with a beginner's mind, be more emphatic and really listen. I started to see that while we encourage and push our kids to reach for the stars, we forget to give ourselves attention and self-love – we feel like we're on a constant race against time and without knowing we throw our dreams on the back-burner. We sometimes lose our zest for life, our passion to learn and our excitement for adventure because we put ourselves in constant second place forgetting that to be the finest influencers we first have to be self-fulfilled and happy. Our little ones get a sense of this – they are influenced by our actions more than our words – more than we assume. So I wanted to create a tool which would change that – on one hand empower kids to recognise their inner strengths and on the other hand also act as an eye-opener for adults. Watching my four year old nephew grow has been another great motivator, saying I adore him doesn't even begin to explain my love for him – he's one of my greatest teachers. Children have a beautiful mind, they have incredible imagination and such great love. We're the new superheroes celebrates this and shows children that they are truly awesome little beings.   
 
Which of the ten super powers would you consider to be the most important?

They're all equally important however, admittedly, I do have my favourites starting with WE ARE CURIOUS. Yes we want to raise curious monkeys! We want our children to question, we want them to explore, learn and discover for this is how they grow. WE ARE GRATEFUL is another big one. When children learn to take a moment to show appreciation, recognise their blessings, are grateful for the now and truly celebrate life – that's when true happiness prevails. 
In what ways can the book help our kids in their search of self-identity?

The root cause of the majority of all problems we may face is lack of self-love so empowering young kids to recognise their inner strengths and showing them that they have a collection of ten super powers cultivates an inward love, boosts their confidences and helps them step into their brilliance. These are the foundations we want our kids to have to be able to grow up to be individuals with a strong sense of self. 
You name imagination as one of the super powers. Is it wrong to let our kids imagine and identify with the mainstream superheroes ike Superman who can fly and Spiderman who can climb walls?

Definitely not! First of all we should never limit our children's imagination or crush their dreams because if we do we will only be creating a block between us and them or we will just shatter their dreams and limit them. Let's let kids dream of being elephants or going to the moon – if that's what they imagine, let's let kids make imagination their driving force. In 'We're the new superheroes', we're showing children that just like their favourite characters (Spiderman and Superman included) they too have super powers which make them just as bold and brave – their super powers are different yet not less powerful – thanks to the book kids feel 'at par' with their favourite superheroes.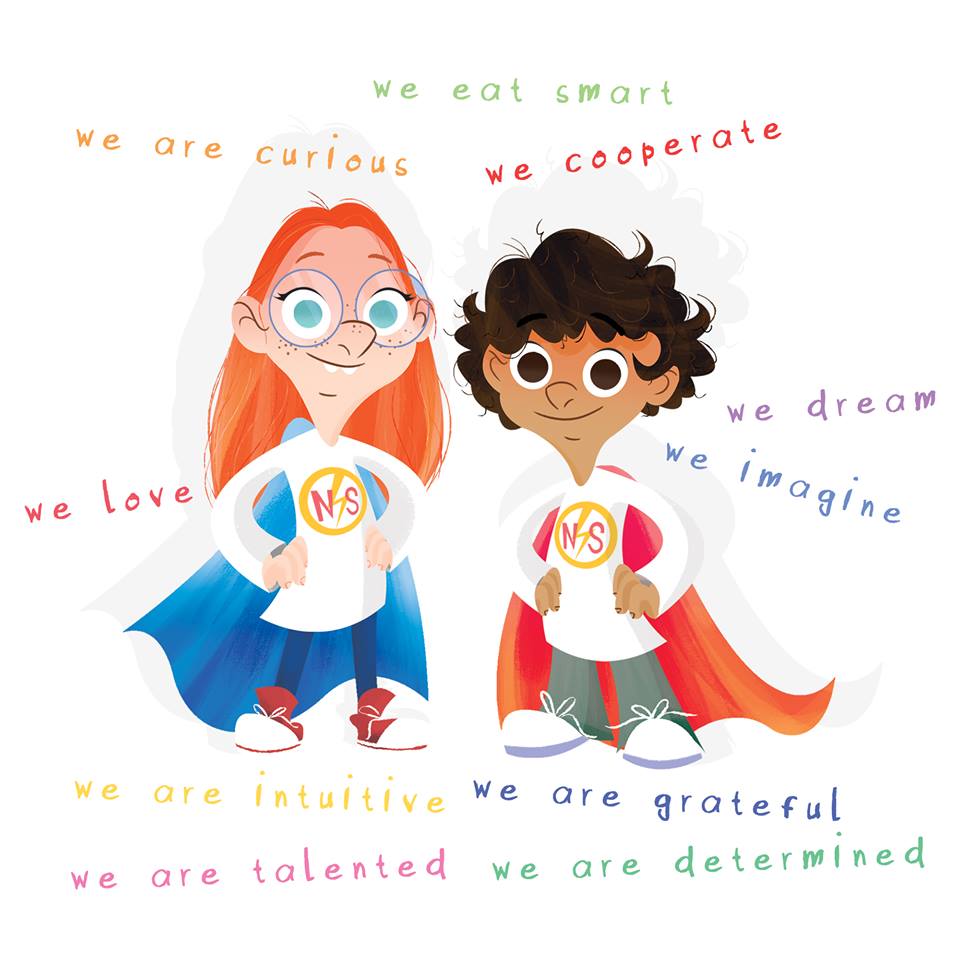 Are there any other super powers you were considering to write about in the book which had to be left out? 
Initially 'We are brave' was part of the book – I dropped it only because I realized that we're only brave when we have the ability to recognize our powers – being brave is the consequence of recognizing our strengths. 
Your future plans ?

First of all, as a first time author, this experience has already been so rewarding! When I'm reading the book with kids and they start to realise that they too have super powers – oh their smiles, excitement and their new found confidence give me so much joy. Thanks to the power and magic of social media I've already had the opportunity to connect with parents and teachers all over the world – that's been overwhelming! Coming up, we'll be hosting numerous workshops for parents, reading events and empowerment events for kids where they will have the chance to put their super powers to the test and a School Reading Roadshow. It feels like we're building a movement – people from all walks of life are joining together to empower kids! I have a feeling 'We're the new superheroes' is going to be a fantastic adventure and I'm enjoying every minute. The next edition of We're the new superheroes will be on my publishers desk very very soon so exciting times ahead.   
 
Where can someone buy your book?

We decided to kick off sales online – anyone interested can buy the book from this LINK. They'll also receive an official 'We're the new superheroes' certificate. 
Special offer for Maltamum followers!

Maltamum readers can use the coupon code NEWSUPERHEROES and get a 1 euro off (and pay 7.95 instead of 8.95, valid till 30/11/2017)! Apart from also receiving a We're the new superheroes certificate, residents of Malta will also receive a collection of entrance tickets to our favourite learning spaces as well as coupons from our partner super power brands. 
Why did you choose to sign the book as Aunty Sab?

Just like everyone else, I had my fair share of tragic moments – situations which transform us and make us either bitter or better individuals. My grieving process led me to believe with all my heart that I had the ability to transform my pain into power so I decided to make it my mission to empower kids to believe in their inner strengths and celebrate their uniqueness. Nothing makes me happier than hearing my nephew calling me Aunty Sab so I figure having thousands of kids calling me Aunty Sab will be my constant dose of happy 🙂
Thank you Aunty Sab for this lovely interview! Mums, stay tuned! A MaltaMum Giveaway competition in collaboration with Aunty Sab is Coming soon on our Facebook page! 
Love, Liza.
Category: Interviews