Today I would like to present to you some of my favorite kids' books, written and published by independent authors; meaning authors who put on a publisher's hat, and do the whole job by themselves to bring to the world some wonderful books!
Marie's Big Adieu by Tamara Rittershaus, illustrated by Giulia Iacopini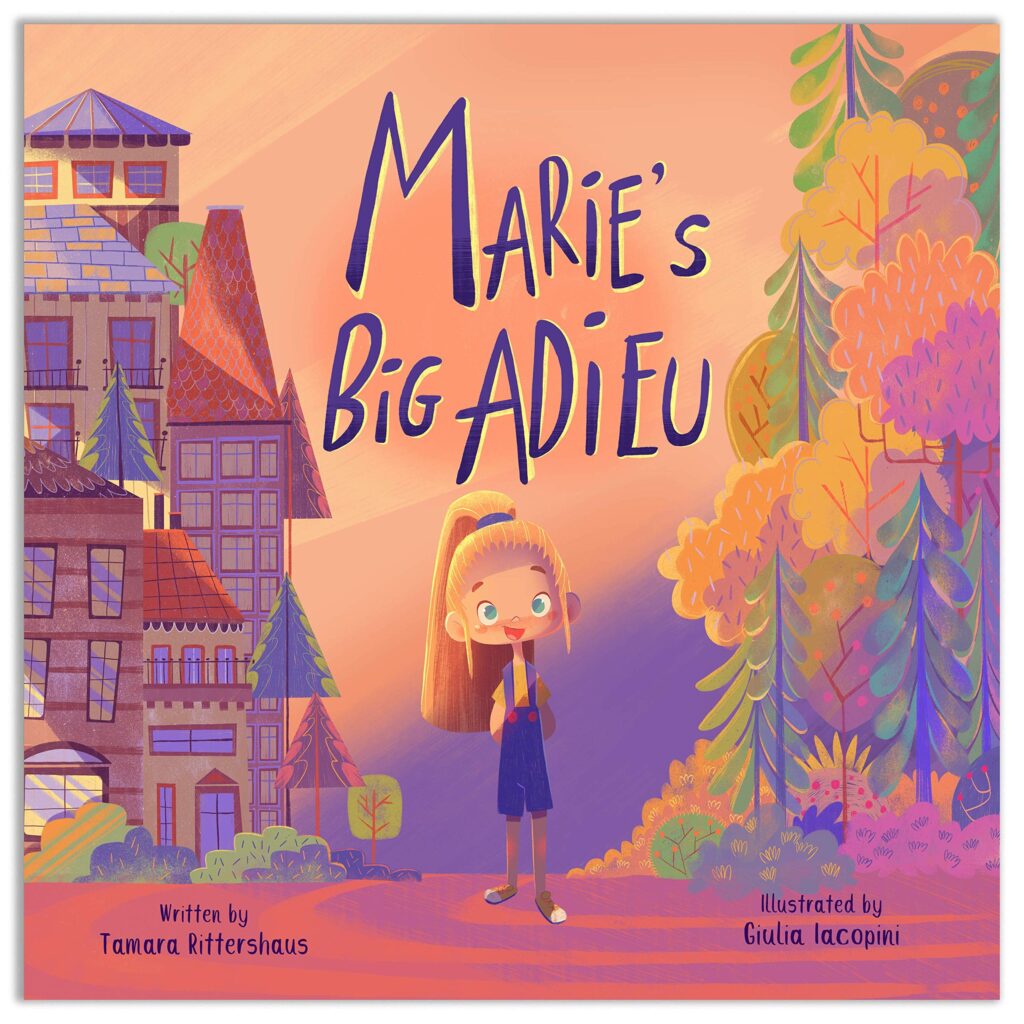 Marie's Big Adieu is a children's book about accepting change after a big move, and it's gorgeous in every way. The storyline, the illustrations, I cannot compliment it enough. Moving is hard, especially when you leave your best friend behind. When Marie moves from the country to the city, will she have to say goodbye to her friend forever? A rhyming story of friendship for anyone who's said a "big adieu".
2. Not Like The Others: A Hidden Picture Book About Diversity by Jana Broecker
Just as the title suggests, this is definitely not like the other books for children. Rather than your typical picture book, this is more of a fun and educational search book that promotes at the same time a love for nature and diversity. Over 250 forest animals fill its pages, and little eyes will be eager to spot the one animal that is not like the others. The imaginative illustrations are accompanied by fun, fact-filled rhymes. This is my favorite book from this author although I urge you to have a look at her other books as well including her new release Pilot Ray the Tale of a Snail.

Buy it here.
3. Lana The Llama Who Wants To Be A Unicorn by Sonica Ellis, illustrated by Harriet Rodis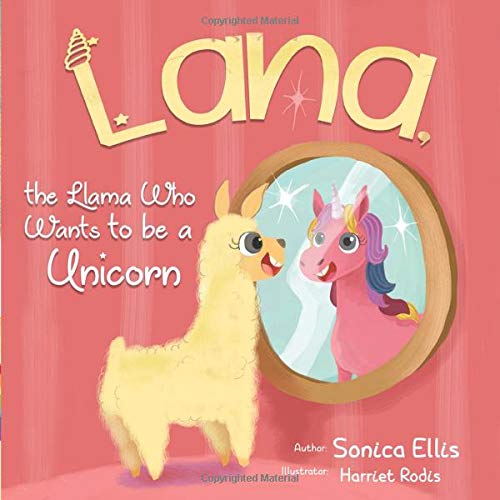 "When in a field full of unicorns, just be yourself!" A delightful, uplifting story with vibrant illustrations, a llama, and unicorns as book characters (who doesn't love them?) The story flows well, and the lessons to be taken away from this book will resonate with most parents wishing to raise confident, kind children with healthy self-esteem.
-Be Kind
-Be yourself
-Believe in yourself
-The power of words
-Don't change who you are so people will like you. Just be yourself and let people get to know the real you.

Read aloud here, can be purchased here.
4. Goggles: The Bear Who Dreamed of Flying by Jonathan Gunson, illustrated by Richard Robinson and Jonathan Gunson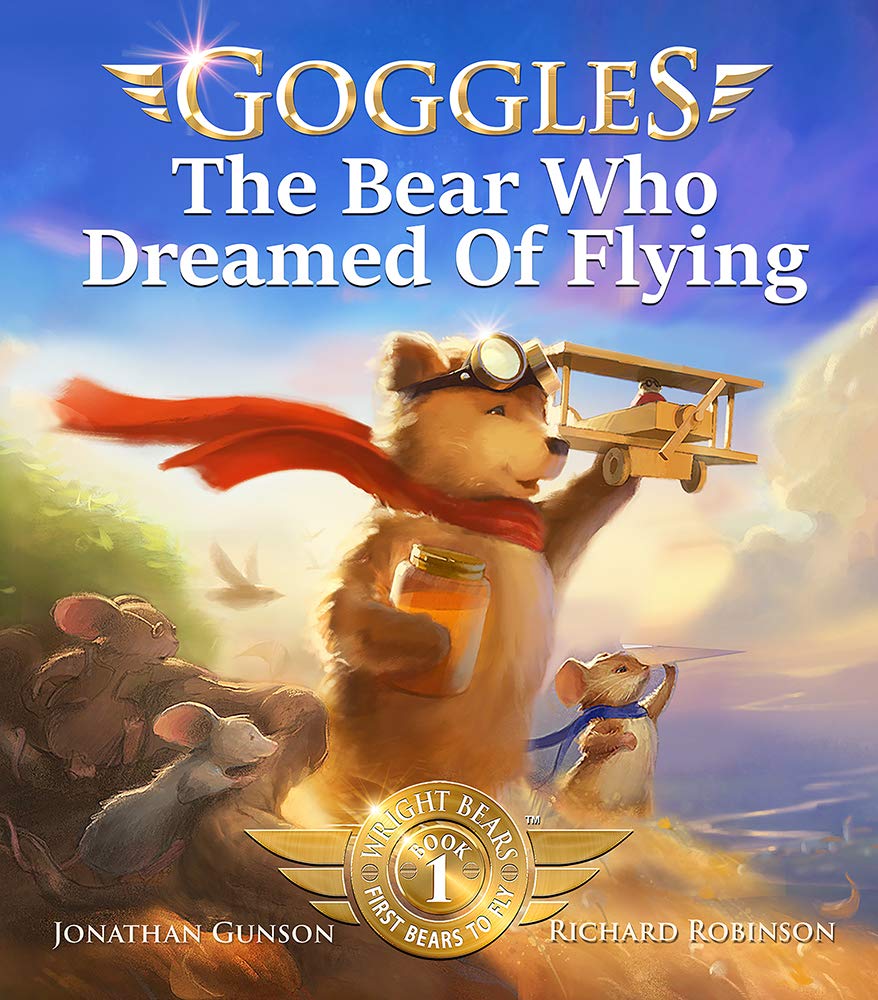 Goggles is a book about a small bear with a very big dream. Goggles wishes to fly, and he succeeds, despite everyone around him insisting on how small he is. This gorgeous book has been inspired by the story of the Wright brothers and is meant to inspire our children to follow their dreams. The illustrations have to be my favorite thing in this book, and I can totally picture it as an animated movie.

Read aloud by the author himself and available for purchase here.
5. Pete Comes To America by Violet Favero, illustrated by Chrissy Schram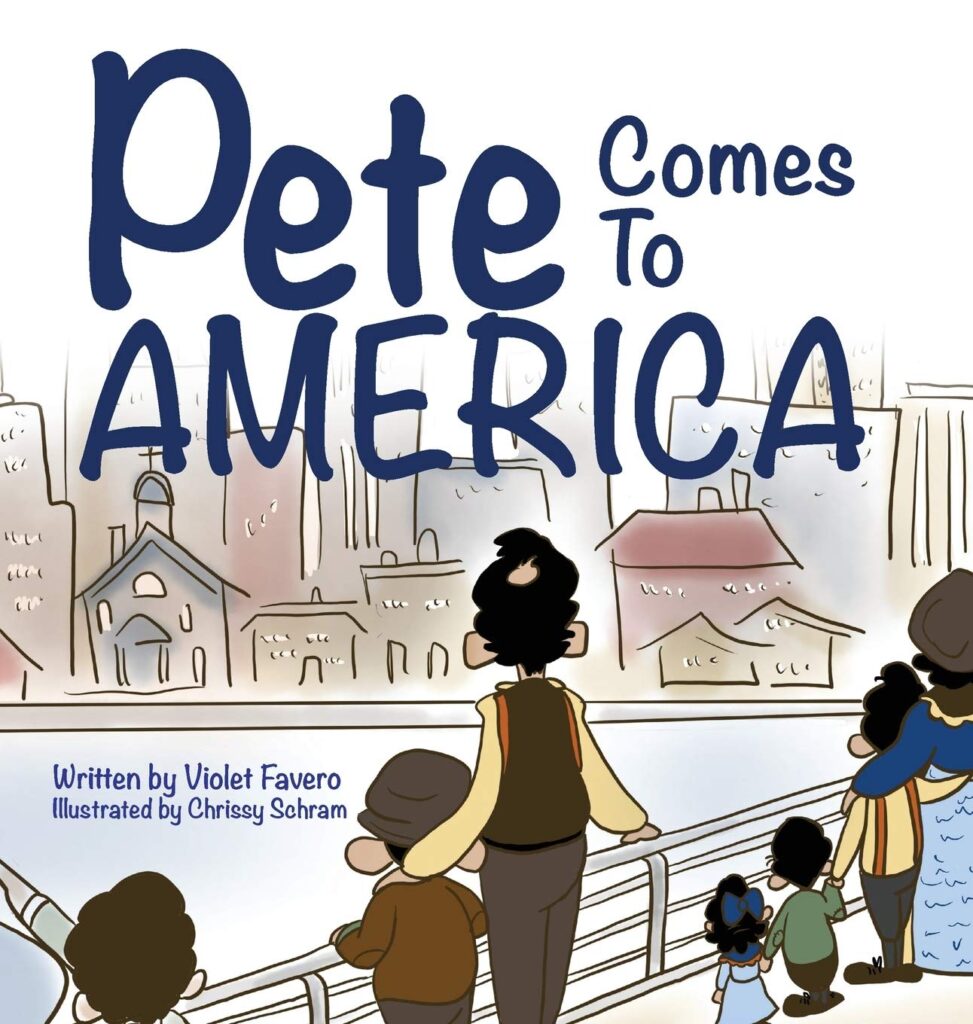 Pete Comes To America is the immigration story of Panagiotis, later on, called Pete, who immigrated with his family to America in 1910 in search of a better future. It's a lovely book, and a great conversation starter for parents to talk with their kids about immigration and their own family's history. How many of us don't we have ancestors who immigrated from one land to another? You will find the book's read aloud by the author herself in the first part of this video, and in the second part, you will find photos and interesting commentary about immigration from back in the days, and conversation starters.

The book can be purchased here.
6. Ellie and the Cupcakes by Amanda Kidd, illustrated by Noor Alshalabi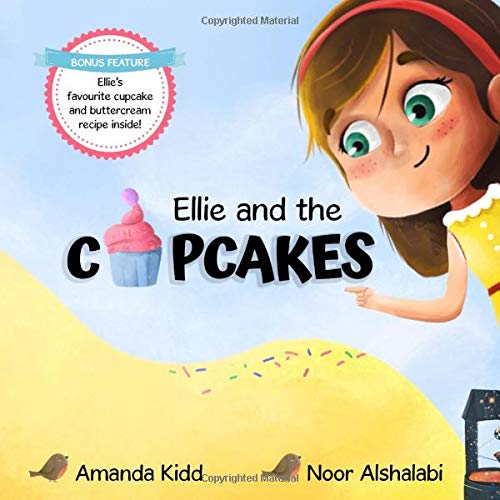 Such a fun story about a girl who wishes to become a giant, only to find out that, well, things are not the way she imagined them to be. I really liked the underlying theme of being careful what we wish for, and be happy and accepting of who we truly are. The illustrations are also super cute and as a bonus, there's a cupcakes recipe included!
You can buy it here.
7. Nonni's Moon by Julia Miles Inserro, illustrated by Lucy Smith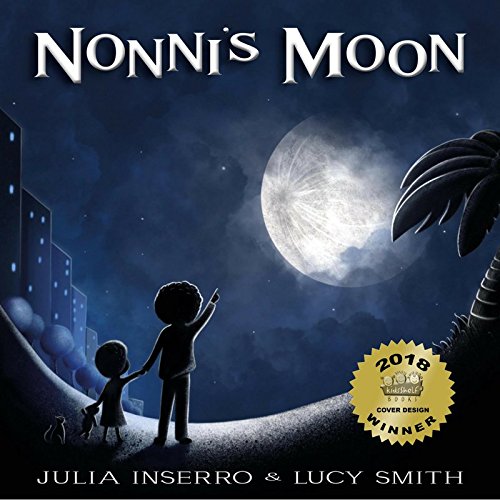 Beanie and her family live in a country far away from grandma. The little girl misses her so much. But then she figures out a way she and Nonni can send messages back and forth…. through the moon! I couldn't recommend this enough. Such a beautiful way to show to our kids that there different ways to stay in touch with the ones we love and miss dearly.
Read aloud here, can be bought here.
8. Arthur the Fly-Slayer & the Forty Dragons by Maria Kamoulakou-Marangoudakis, illustrated by Ilias Sipsas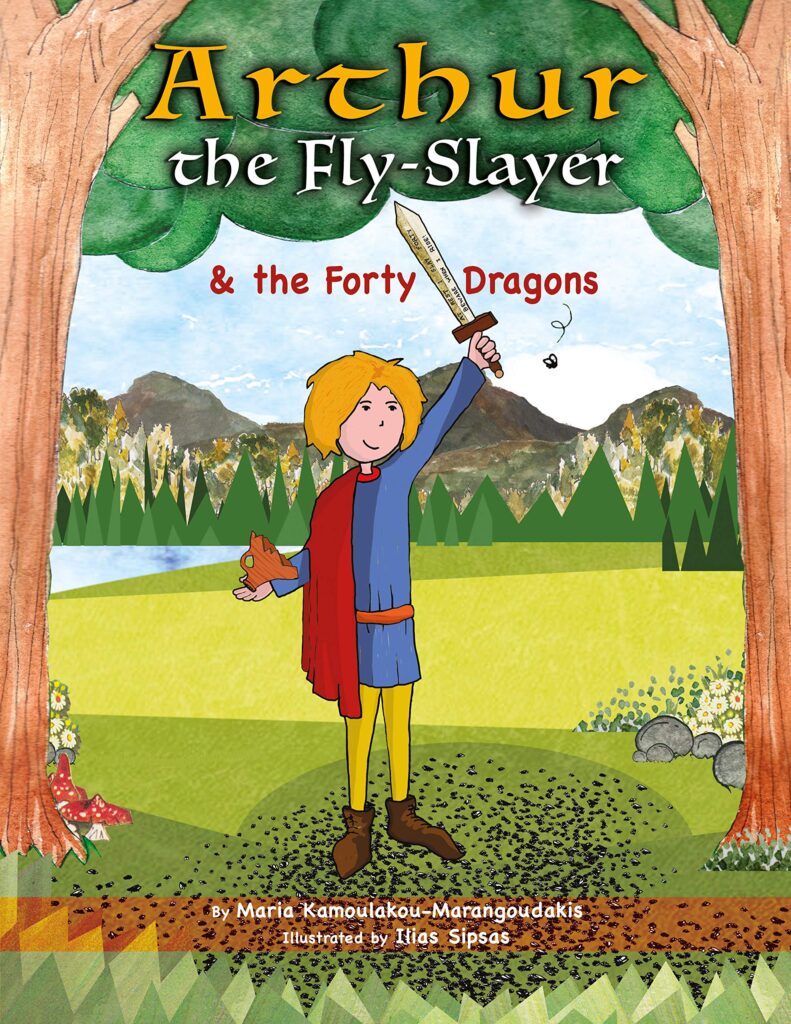 Arthur the Fly-Slayer & the Forty Dragons is a retold fable, which will be treasured by children who love adventure books and, of course, dragons. What makes things even more interesting, is that this is a story that was passed down through generations before the author decided to turn it into a book! It's not a typical picture book; it includes 10 short and engaging chapters with gorgeous illustrations on each page that leave kids wondering what will Arthur do next. Can Arthur save the village from a gang of thieving dragons?
Available for purchase here.
9. And Pip, Too! by Colleen Brunetti, illustrated by Dan Carsten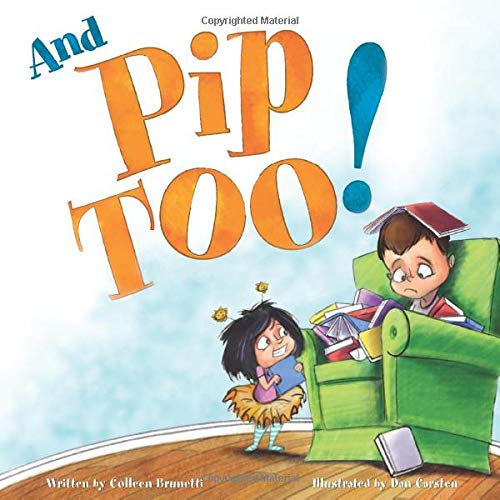 Such a fun book! Let me introduce you to Pip and her big brother. Pip is cute, she's sweet… she really makes a mess of things! Big Guy is the big brother. He's fun-loving, he's creative… he'd really like to get through the day without another disaster. Can these two ever get along? This book will show your little ones that no matter how crazy the day is, there is nothing like a sibling bond. I have a boy and a girl, they totally saw themselves represented there. Did I mention that the illustrations are hilarious?
Give it a read here.
10. Hair Peace by Dawn Doig, illustrated by Savannah Horton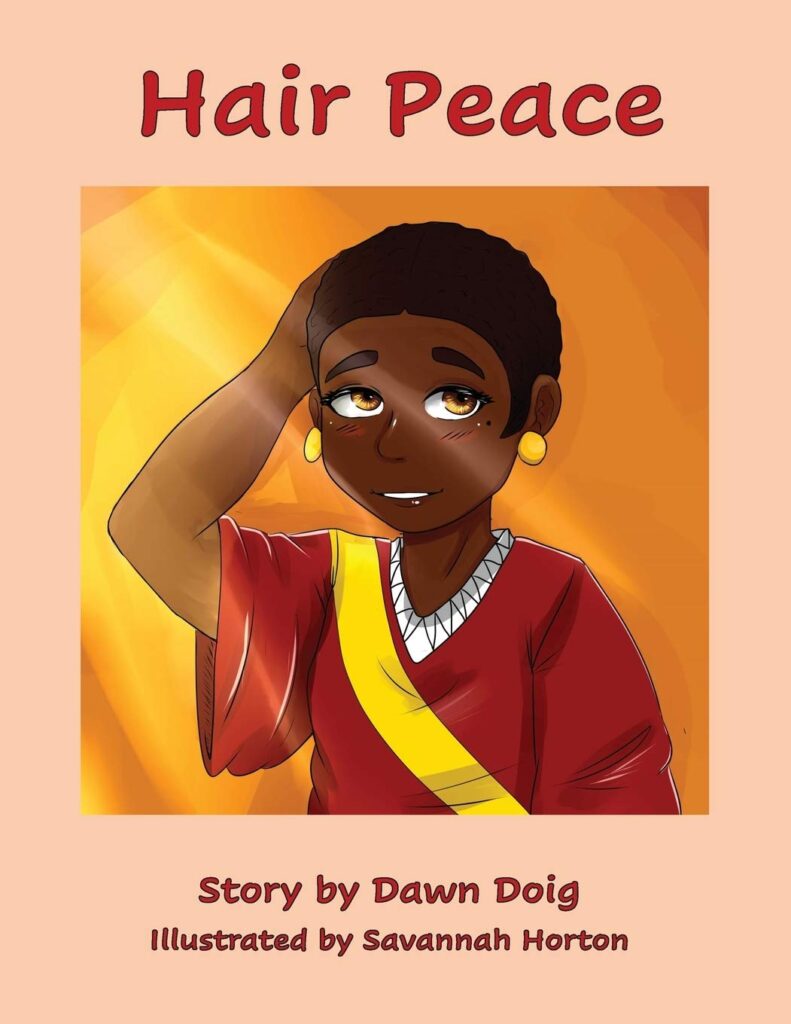 Johanita does not like her hair. She wants to be just like her friends, who she believes are the ones who have the most beautiful hair ever. When her mother takes her to the hair salon, Johanita takes with her several wigs which she tries on day after day at school, in an attempt to resemble the other ones and feel beautiful. After a new girl starts at school, Johanita discovers that beauty comes in many forms and it isn't your hair that makes you beautiful. An adorable, kind story of friendship, and loving yourself for who you are.
Available for purchase here.
Bonus entry, the very 1st read aloud of Happiness Street by Elisavet Arkolaki, illustrated by Charikleia Arkolaki, narrated by Angel Greaves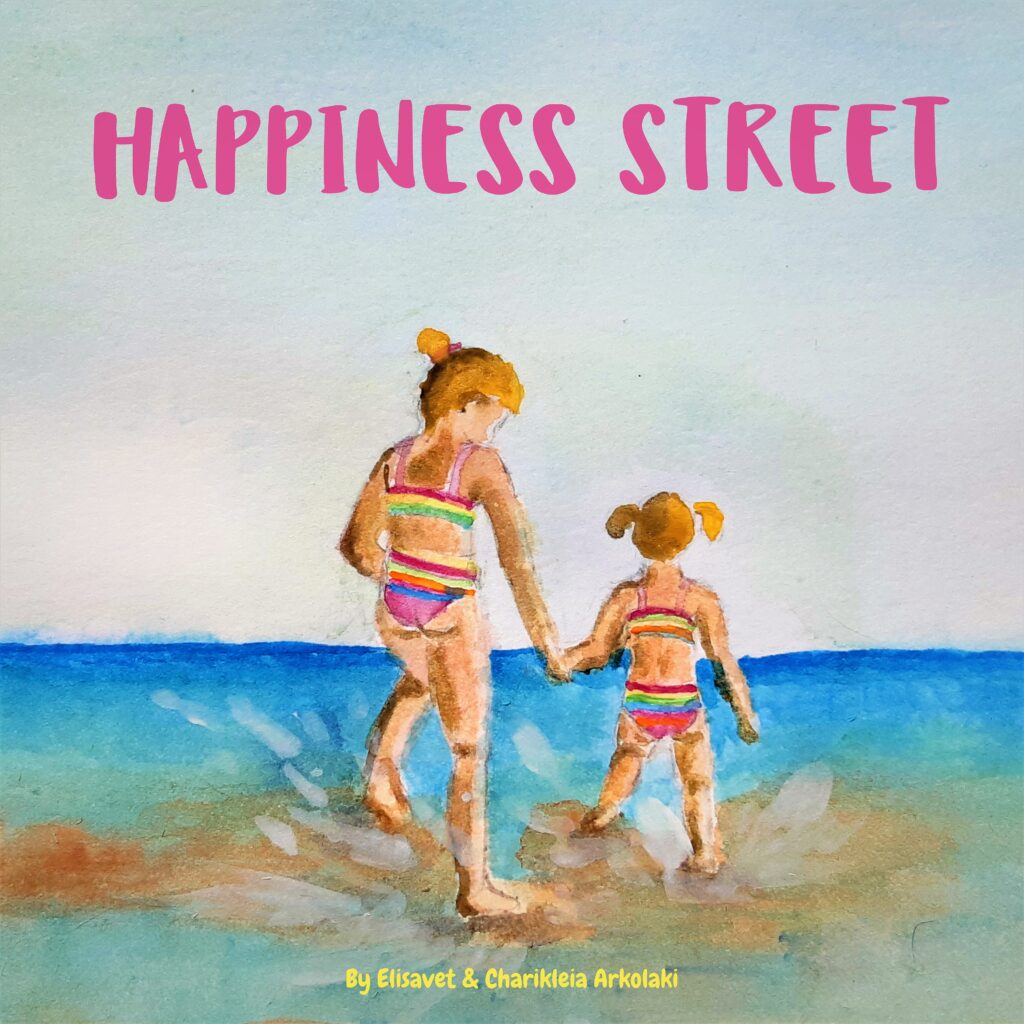 Happiness Street is a children's book about a summer spent by the seaside with Grandma, illustrated with charming watercolor paintings. Here you can hear the story read out loud for the very first time, thanks to Angel Greaves <3. This is her podcast. The book can be purchased here.
Any other books you'd like to bring to my attention? Please leave a comment below!
As always,
Thank you for reading!
Category: Mum's Library