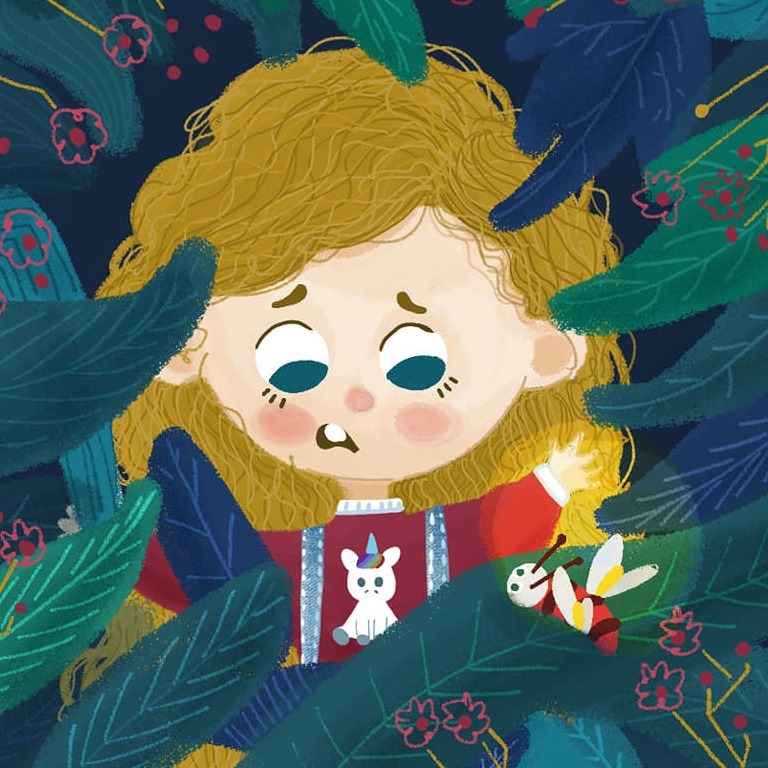 I love books, right? This has been well-established :). This means that I giggle with excitement whenever I discover a new gem, and even more so if this new gem is meant to be shared with my children. I guarantee that you will hear your child laughing out loud while you read Super Farty Pants! And as a bonus, it might even entice your child to ask for an extra serve of vegetables.

The main character, Amelia, is just a regular kid. That is until a chance encounter with a strange looking bug that grants her super powers- super farty powers! A hilarious story full of farting and flying that children of all ages will love. Check it out and let me know your thoughts. Here's the video with the author reading his book.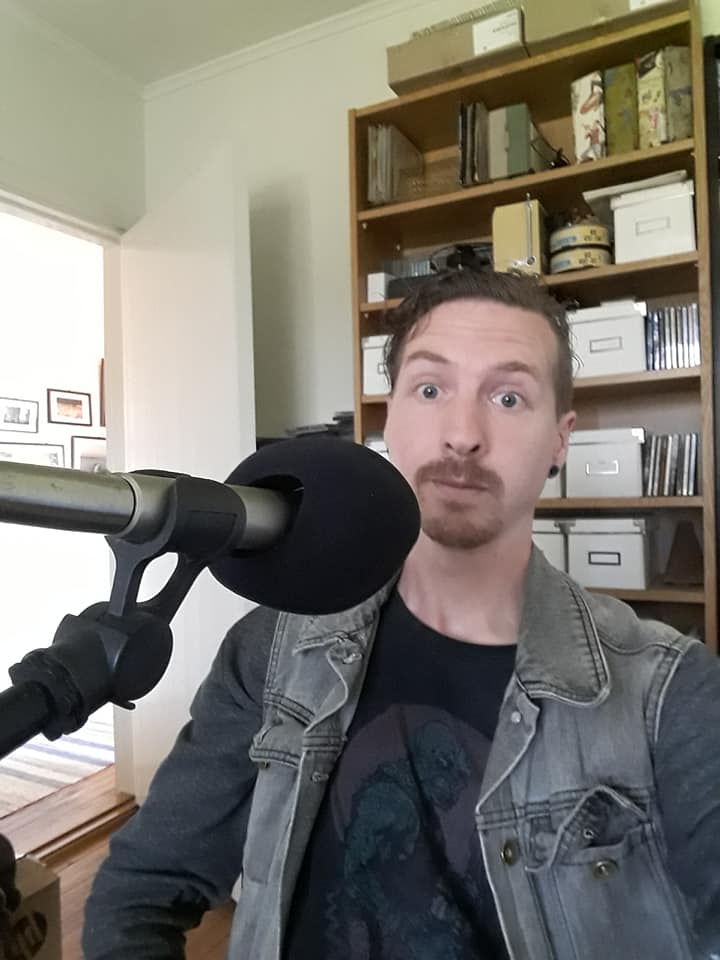 Paul Wennersberg-Løvholen, a 36-year-old father of two little monsters, is the brilliant writer behind Super Farty Pants! and Frøken Superpromp! (Norwegian Edition). He's also a horror filmmaker and an actor, known for Grindsploitation (2016), A Christmas to Dismember and Kill Kwazy. Originally hailing from the UK, he has traveled and lived in several countries around the world, and now living in the land of Vikings, Norway, where he works with teenage refugees.

How would you describe yourself in 10 words?
Ambitious, creative, thoughtful, with a quirky unique sense of humour.

How did you get started with writing your first children's book?
Well, it began with my kids. I have penned a few stories in the past, and also wrote some screenplays, but my first foray into children's writing began with my children. I love books and love reading to my kids. I've tried to foster a positive relationship with reading and books. There are so many great books out there already, that's no lie, but there are also so many terrible ones. I honestly wasn't completely won over with the books on offer, so I started writing my own for my own children. They started off initially with just personal books, that I illustrated and printed myself, that became a thing in our house- they would get a book for their birthday. Folks kept saying that I should do something more with my books and try and make it as a professional author, and with Super Farty Pants! I decided to take that leap.

I had read a lot of blogs and books about getting published and self-publishing and tried to educate myself as much as possible. All I can say now is that I still have so, so much to learn!

But I did initially try approaching publishing houses with my manuscript. I even had a coffee with one of Norway's most successful children books authors -Irene Marienborg- author of the Nora books. She was lovely and really loved the story. She encouraged me to pursue a publishing deal, but alas, it wasn't meant to be. There are so many reasons an author gets rejected and it can be so hard to get a deal. So I wasn't too upset but instead was motivated to actually do this myself. I'm a little punk with a DIY sensibility so this was fine with me. So then I began the journey of finding an illustrator and getting this book out there myself. A year later I'm almost there lol. Still, a lot of work to do in regards to promotion but I'm getting there. And most importantly, I am so pleased with the finished book, especially the artistic merits of Kamal M Nair.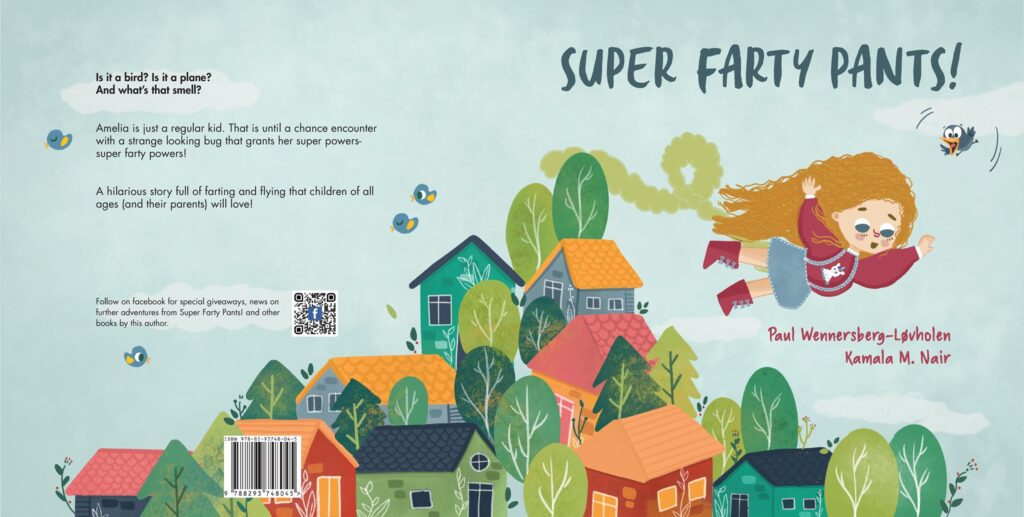 Why did you choose farts to be Amelia's superpower?
Well I have two daughters at home- who were 2 and 4 years old at the time of writing. Toilet humor is popular in our house and anything involving farts and bums is the best thing ever. So, in regards to the humour- that was a winner. But there was an ulterior motive. This was about normalising something that for many has been something to be ashamed of. There are so many folks that do not like fart humour and feel that we should be ashamed every time we let out a little bottom burp. But we all do it! I am all about my kids being comfortable with themselves and their bodies. So there was a little more at play here than just toots and giggles.

What do you wish that children will take out of your book?
R.L. Stine (author of the Goosebums series) once said- "Many adults feel that every children's book has to teach them something…. My theory is a children's book… can be just for fun." So many authors now are all about throwing in morals and lessons into their stories. Sure, I may have slipped in a couple, but that wasn't the main motivation.

Especially at such a young age, it's important that children do build a great relationship with books and reading. We've already got enough competition from the likes of silly youtube videos and tablets, so why make it so hard for ourselves. Children need to enjoy themselves whilst reading. Those lessons can come from the parents or from school. With Super Farty Pants! I just want children and their parents to sit down together and laugh along, not only enjoying the story but each other's company. Shared laughter with our children is golden, and I think I managed it with this book.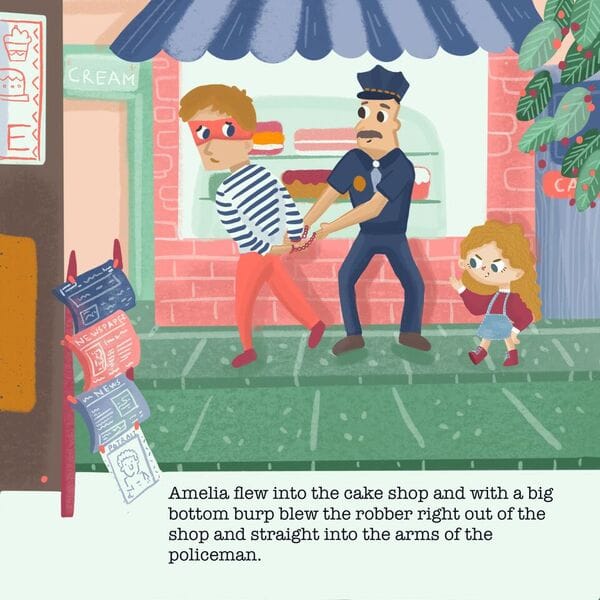 What is your vision? Where do you see yourself in 5, 10 years from now?
I am already in the process of writing several children's books and hope that I can actually make it successfully as a children's book author. I am pretty sure my books will grow with my children so maybe 10 years from now I'll be more focused on teenage literature, though I am in love with my current genre so there will be a few more children's picture books in the works regardless. I also have a novel waiting to be penned which I hope to work on next year.

But I guess my biggest hope is that I sit with the same ambitions and drive as I do now, and don't get bogged down with the business side of things and turn my passion into writing and inspiring kids into a passion solely geared around sales and making money.



Facebook: SuperFartyPants
Amazon English book: Super Farty Pants
Amazon Norwegian book: Frøken Superpromp!
Category: Interviews, Mum's Library