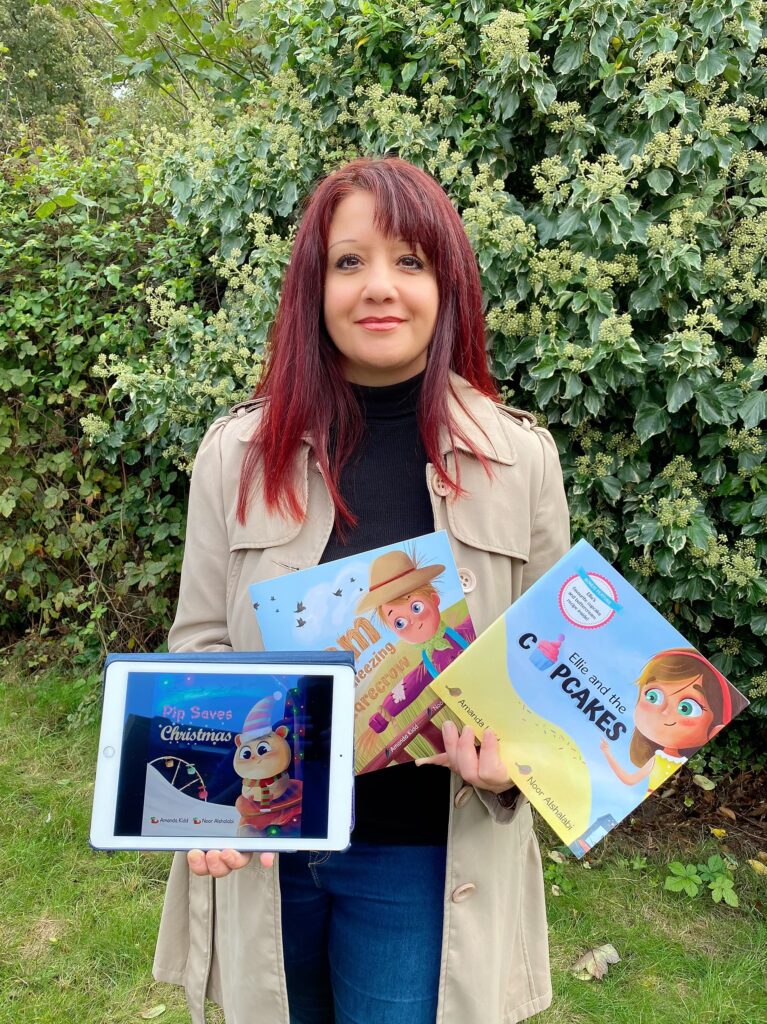 Amanda Kidd is a Maltese children's picture book author and director of Cuckoo-Bye House Publishers. She lives in the UK with her husband, two children, and Nibbles the gerbil, all of whom have inspired several stories. She has a weakness for cakes and was in the middle of a cakey sugar rush when she got the inspiration for her debut picture book, "Ellie and the Cupcakes."

When she's not diving head-first into baked goods, she can be found writing in her garden, reading to her children, or playing chess. (She usually wins, despite what everyone else says). "Ellie and the Cupcakes", "Pip Saves Christmas" and "Sam the Sneezing Scarecrow" are available from Faraxa Publishing in Malta, and from Amazon as print books and ebooks.

How would you describe yourself in 10 words?
I am an impulsive dreamer who persistently chases her goals.
How did you get started with writing your first book?
The year was 2014. We had gone on a family trip to Cornwall and bought a few Julia Donaldson books to take with us. My daughter was still a baby and as I was feeding her, my husband started reading 'Room on the Broom' to our son. It was the first time I'd heard that story, and as I listened to it, I felt something light up my soul. That evening, I wrote my first story. I wrote several stories over the years, but I only decided to take my author career seriously this year. I realized that no one was ever going to read anything if I left them on my laptop, so, after deciding that 2020 was going to be my year (this was before all the craziness took over), I began looking for an illustrator. I met Noor Alshalabi, a fantastic lady from Jordan, and work started in earnest.
What do you wish that children will take out of your books?
My main aim is to make children happy with my stories. I want them to be excited about the storyline, to enjoy the illustrations, and to make memories of snuggling with a parent while being read to. Apart from the fun factor, most of my stories have underlying themes which can be expanded on. For example, the underlying theme in 'Ellie and the Cupcakes' is 'be careful what you wish for.' In 'Sam the Sneezing Scarecrow', the main character goes on a journey of self-discovery and ultimately, self-acceptance. 'Pip Saves Christmas' is about kindness, and how a gerbil has his best Christmas ever by being kind and helping some elves in need.
Can you tell me some of your strengths that really helped you in getting your books published?
I'm persistent, a keen learner, and am able to accept criticism. This means that I don't give up on my dreams and goals, I'm always learning how to improve myself and my books, and am prepared to make adjustments whenever necessary.
What was your greatest failure and what did you learn from that?
Definitely shelving my dream of becoming an author in the early years, thinking that I wasn't good enough, or that things like that didn't happen to me. I eventually realized that 'if it is to be, it's up to me' and now I won't let anything get in the way of me achieving my goal.
Tell me about your proudest achievement.
I'm grateful that I have quite a few achievements I'm proud of. I graduated three times, I'm a qualified skipper, and also a lactation consultant, all of which are goals I ticked off my list; however, publishing my first book has to be one of the most amazing things I have done.
Who do you admire most and why?
I love the work of Julia Donaldson, Giles Andreae, and Adam and Charlotte Guillaine among others. Their stories are so funny, and I always burst out laughing when reading them. I'm hoping I can impart some of that excitement to my own readers.
If you could travel back in time and give advice to your teenage self what would that be?
Nothing lasts forever. The bad times will pass, and appreciate the good times because you don't know when they will end.
If you could know the absolute and total truth to one question, what question would you ask?
Do parallel universes exist?
What is the funniest thing that has happened to you recently?
I was watching the squirrels in the garden with my son. They're so agile, and I'm in awe of their acrobatic skills. I said to my son 'I'm so envious of those squirrels.' He said 'Why? Is it because they're skinny?'
How can we introduce the love of reading to our youth?
This is a tricky one. Sometimes, you can do all the right things, such as reading to your children, taking them to the library, and so on, but they still refuse to read. It's so frustrating. Having said that, what worked for me, was giving my children books on topics they like. For instance, my son doesn't like the typical books for children. He reads about science, sharks, etc. If it sparks their interest, they will more than likely read about it.
What would you advise young kids and teenagers who love books and would like to publish their own?
Read a lot, write a lot, and join a writing community, be it in person or online. Being with like minded people will help boost your morale and confidence.
What is your vision? Where do you see yourself in 5, 10 years from now?
A year ago, being an author was just a pipe dream. By the end of this year, I'll have published three books. Publishing a book is such a high, that I need to experience it over and over again. Barring unforeseen circumstances, that's what I'll still be doing in 10 years' time.
How can the readers get in touch with you and where can they find your books?
I have my own website (www.amandakiddstories.com), but I'm more active on Facebook. Maltese readers can order from Faraxa: Ellie and the Cupcakes, Sam the Sneezing Scarecrow, Book Bundle, or Selections Stationery in Marsascala. International readers can order from Amazon:
Ellie and the Cupcakes, Sam the Sneezing Scarecrow.
Category: Uncategorized