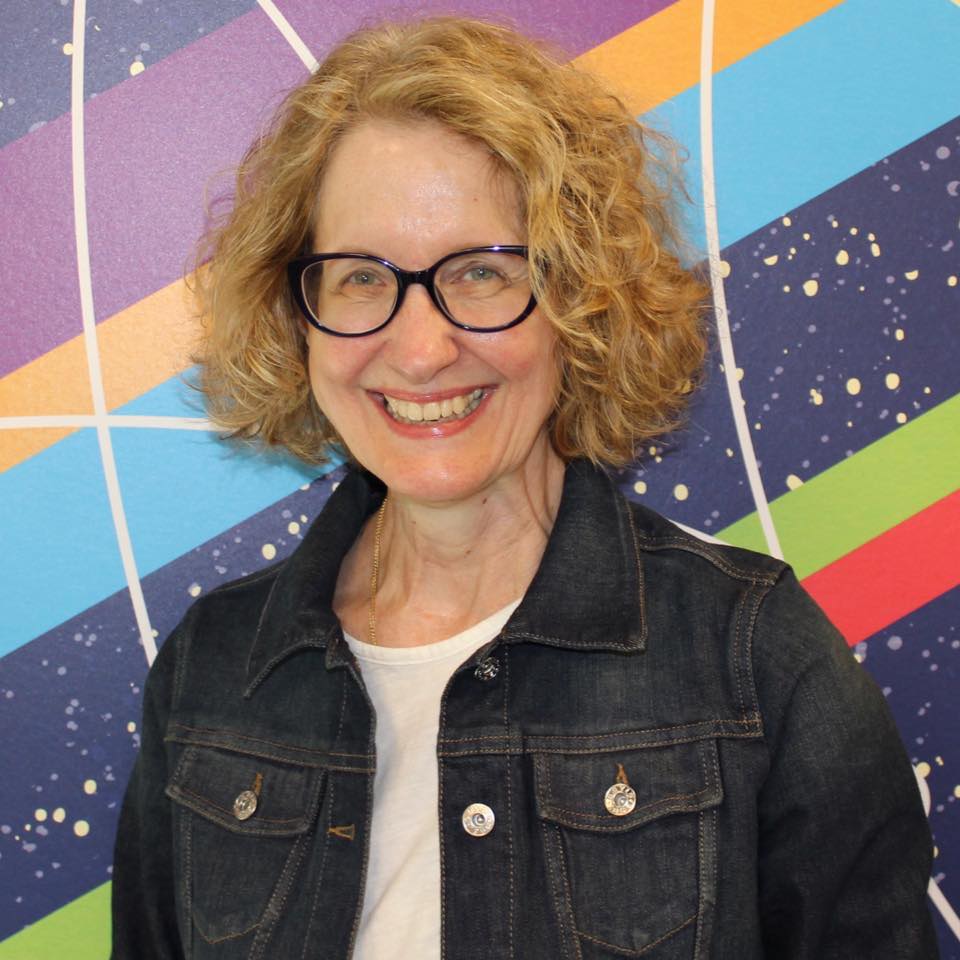 Janie Reinart is a fellow author from the USA. I met her online in a small authors' group where we came together to brainstorm marketing ideas about our debut children's books. I was so impressed to see she has worked with so many different things prior to the publication of When Water Makes Mud, and her love for children shines through. She taught school, tried her hand as a professional puppeteer, wrote and performed interactive musical stories, presided as a poet in residence at an elementary school, clowned around in a children's hospital bringing silliness to patient's everyday routine. Janie encourages emergent writers of all ages to find their voice, share their stories through free verse poetry, and experience the sheer joy of writing. She's a former Poetry Day Liaison for OCTELA (Ohio Teachers of English Language Arts), Teacher Consultant with the National Writing Project (NWP), member of the NWP Writers Council, educator, author, and poet.

Her children's book When Water Makes Mud, illustrated by Morgan Taylor and published by Blue Whale Press, addresses the topic of refugee children, and it does so with a lot of respect and sensitivity, helping our own children to really see how reality can be very different for other children their age. The title itself is a tribute to the resourcefulness of children with no toys, who use their imagination, get inventive, and find ways to do what kids do – engage in playing activities, no matter the circumstances. The book can be found across bookstores in the USA, but it can also be found in Europe, Australia, and more, via most Amazon stores. All of the publisher's profits from the sales of this book are being donated to UNICEF to help the children.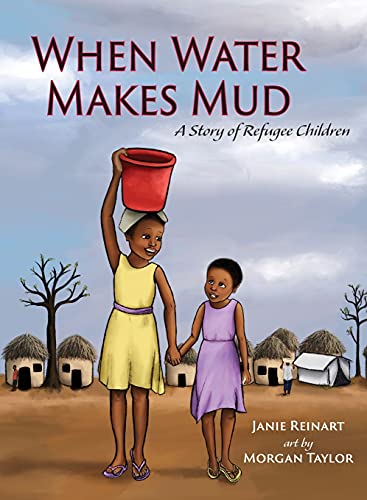 Here's the official book description: When war forces two sisters to flee their home in South Sudan with nothing but the clothes they are wearing, Big Sister strives to help Little Sister smile again at the refugee settlement. But as quickly as Little Sister's smile appears, it disappears: that is until water makes mud. In the end, Big Sister's artistry and kindness bring hope to their situation. This title is a tribute to the resourcefulness of children who have no toys, but continue to play and is dedicated to the 200,000 refugee children living at the Bidibidi settlement in Uganda. Now, let's get to know Janie better.
Janie: Liza, thank you so much for inviting me to your blog. It is a delight to chat with you about my favorite things, reading, writing, and books!

How would you describe yourself in 10 words?
A Singer. Joy-bringer. Hugger. Grandmother. Reader. Writer. Adviser. Smiler… extraordinaire.

Tell us a bit about your inspiration, and the story behind the story When Water Makes Mud: A Story of Refugee Children.
A National Geographic article about refugee children making their own toys from mud, paper, and plastic caught my eye. The exquisite pictures in the article started the picture book story for me. I was inspired by the children and the complexity of the invented toys they made from found objects using their imagination and critical thinking skills. Children without toys—yet children who play. The universal themes of play, hope, and dreams influenced my story. I noticed Nora Lorek, the National Geographic photographer was on Instagram. I gathered my courage and contacted her to ask if she would consider confirming what animals might be found in the Bidibidi Settlement. Nora was gracious enough to give me her email and became my inspiration and resource. Nora asked to see my story when it was finished. She loved the story and said it reminded her of a photo. When I clicked on the link she sent, it was the very picture of Nora's that started the story for me. I wanted that picture in the backmatter of my book. It was important to me for children to see that photo to empathize with children in other places in the world. Nora directed me to her agent in London and I purchased the photo.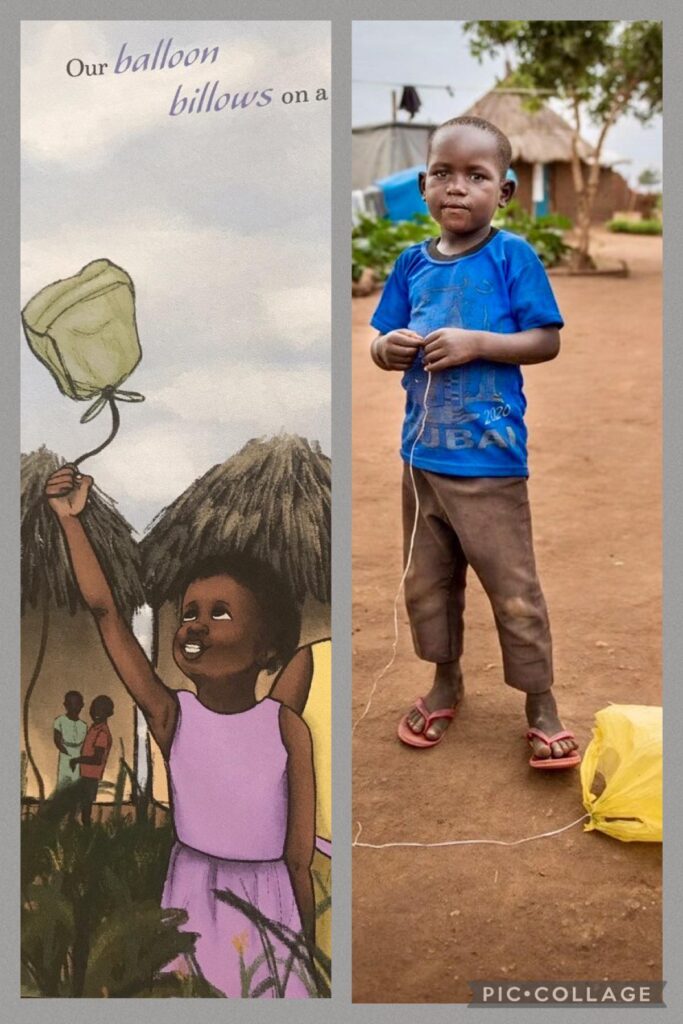 What do you wish that children and parents will take out of this book? The refugee children find joy in the little things. By using critical thinking, problem-solving, design, and engineering skills Big Sister creates something of value and solves the problem of no toys. The girls are resilient because they continue to play. Their hope becomes our hope. I would like to see today's tech-savvy children disconnect from screens and spend more time using their imaginations and creating. I'm hoping When Water Makes Mud will also inspire people to donate to UNICEF. Publisher's profits from When Water Makes Mud are being donated to UNICEF Uganda.


Tell us about your proudest achievement.
My proudest achievement is my family. I'm blessed to be married to my charming husband for 50 years. We have five children (really ten counting their spouses) and 16 grandchildren.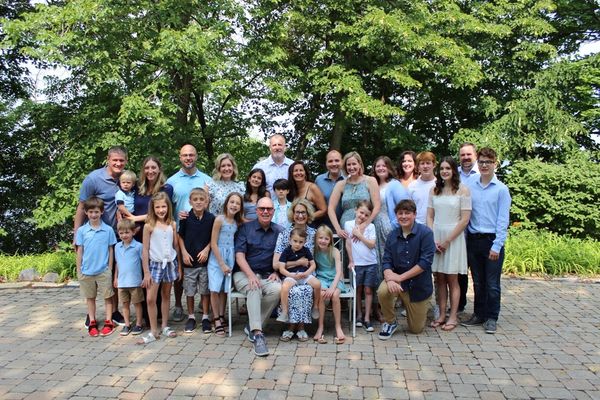 What was your greatest failure and what did you learn from that?
I prefer Thomas Edison's point of view, "I have not failed 10,000 times—I've successfully found 10,000 ways that will not work." I've learned to keep going.

Who do you admire the most and why?
I admire Jane Marczewski, the 30-year-old singer from Zanesville, Ohio, known as Nightbirde. Jane is battling cancer and had to drop out of America's Got Talent after she won the Golden Buzzer from Simon Cowell. She said, "It's important that everyone knows that I'm more than the bad thing that happens to me." Her Instagram page says, "Pretty beat up, but I still got dreams." Through all her suffering, she writes beautiful lyrics, has a lovely voice, and shares her hope and joy with the world.

If you could know the absolute and total truth to one question, what question would you ask?
Where is Waldo?

What's the craziest thing you have ever done?
The craziest thing for me was leaving home (my husband took over with the kids) for a week and a half so I could take a poetry class. The class took place in Canyon de Chelly in the heart of the Diné (Navajo) reservation in northern Arizona. We primitive tent camped, hiked up cliffs, and wrote deep in the canyon on the land of Lupita and Jon McClanahan, Diné teachers living and sharing in the traditional "Beautyway"—the Diné way of life. Lupita's family has lived on this land for more than 300 years. We also worked with John Fox, a certified poetry therapist. I will never forget the peacefulness, the starry nights, the blue skies and red canyons, and stories told about the "Beautyway" on this adventure.
If you could travel back in time and give advice to your teenage self, what would that be?
Do not under any circumstances let your mom perm and cut your hair. EVER!
What is your vision? Where do you see yourself 5 years from now?
I love learning new things and hope to write a graphic novel, and poetry books in the next five years.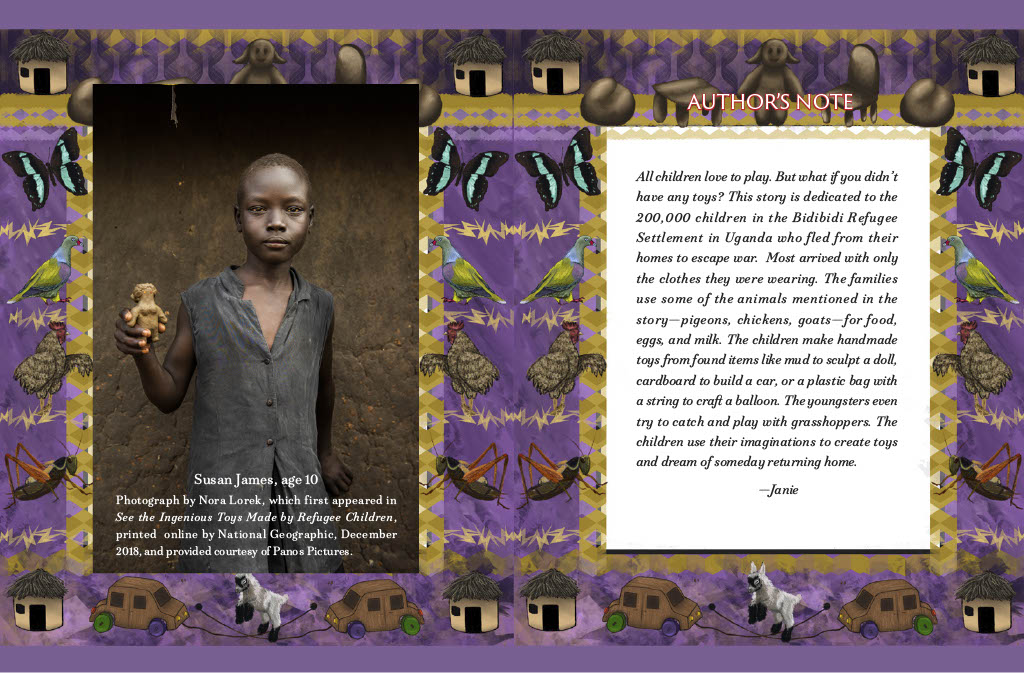 Share a sweet story that has happened to you recently.
After a virtual author visit with my grandson's kindergarten class, I called him when he got home from school. The visit was centered around my picture book retelling of The Ugly Duckling. We read the story, told duck jokes, looked at different-sized eggs, sang a song, and I answered questions from the students. A little girl asked, "How many books did you write?" My answer was three books for adults and six books for children. I showed the pile of books on the screen to the kids. I asked my grandson what he thought about the visit. He answered, "I'm relieved!" This was not an answer I was expecting. I asked, "What do you mean by that?" It seems my grandson was only aware of The Ugly Duckling book. In his mind, I was "fake news"—not an author—if I only had one book. Lucky, I restored his faith in me and came through for him as a "real" author. Tough crowd those kindergarteners.
How can the readers get in touch with you, and where can they find your books?
I look forward to meeting readers. You can reach me on my contact page at www.janiereinart.com, Twitter, Instagram. My books are available on all Amazon stores, and there are free downloadable resources for When Water Makes Mud on my site here.
Category: Interviews