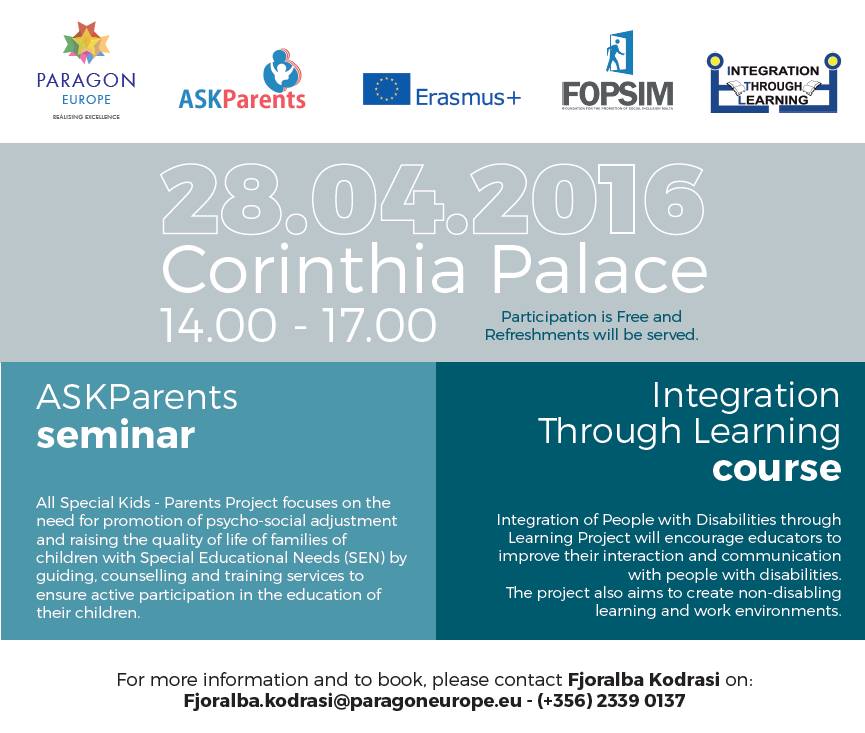 Paragon Europe and its affiliate organisation FOPSIM are organising a joint event to discuss opportunities for people with disabilities and their families. The event will be held on Thursday 28th April at Corinthia Palace in Balzan from 14:00 to 17:00. Two parallel sessions will take place as part of two different projects:
The All Special Kids – Parents Project focuses on the need for the promotion of psycho-social adjustment and raising the quality of the lives of families of children with Special Educational Needs (SEN) by providing guiding, counselling and training services to ensure active participation in the education of their children.
&
The Integration of People with Disabilities through Learning Project will encourage educators to improve their interaction and communication with people with disabilities. The project also aims to create non disabling learning and work environments.
No fee is required but Registration is obligatory.
Please follow the link here for the event on fb page:
For further information and to book your place please contact Fjoralba Kodrasi who is responsible for this project in Malta at f.kodrasi@paragoneurope.eu or call at 2339 0137.
———————————-
Agenda
13:45 – 14:00 Welcome coffee and registration
14:00 – 14:30 Ms Maria Limongelli, FOPSIM; Ms Fjoralba Kodrasi, Paragon: Presentation of
the Agenda – Introduction to the "ASKParents" & "Integration through Learning" projects
Parallel Sessions
ASKParents Seminar, Ms Fjoralba Kodrasi
14:40 – 15:30 Session I – "Basic Rights in Special Education"
15:30 – 15:40 Q&A
15:40 – 16:00 Coffee Break
16:00 – 16:20 Session II – "Second Celebrate Yourself! Self Determination and
Happy/Successful Children"
16:20 – 16:30 Q&A
16:30 – 16:50 : Session III – "Creating a Vision"
16:50 – 17:00 Q&A
Integration Through Learning course, Ms Maria Limongelli
14:40 – 15:00 Stereotype perceptions about people with disabilities
15:00 – 15:15 Disability language: General Language Tips
15:15 – 15:40 Disables discrimination and inclusion
15:40 – 16:00 Coffee Break
16:00 – 16:30 Types of disability
16:30 – 17:00 Conclusion – Q&A
Category: Current events, Events in Malta