Guest writer Elizabeth Penziner*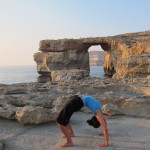 A mother's energy is constantly fed and replenished by her children and family.  But to successfully navigate the responsibilities and demands of parenting, self-care cannot be neglected. Self-care activities are those that nurture rather than deplete. Self-care is the key to keeping it all together; you cannot parent compassionately if you are exhausted.  Mums need to prioritize self-care to restore vital energy and time whenever they are not producing, coordinating, or solving problems for the family. You need time to simply be you, and to engage in things that take care of you. When you feel personally cared for and rested, you can begin to play and to share activities that promote the health of your entire family.  And by showing your family that it is enjoyable to take good care of yourself, along with taking care of everybody else, you are setting a positive example and inspiring their own self-respect and early self-care habits.
We know that physical activity helps our bodies, but we're just coming to understand the benefits of self-care on emotional health and well-being.  A cultural shift is occurring.  It promotes self-care as beneficial for individuals at any age who wish to develop:
Broad awareness
Skill in making choices
Support, friendship, and community
Improved ability to listen, visualize, and decide
Presence of mind
Compassion
Yoga is one well-accepted and easily practiced method of self-care.  What better way to enjoy time with your family than to share yoga to nurture health and forge stronger connections and relationships!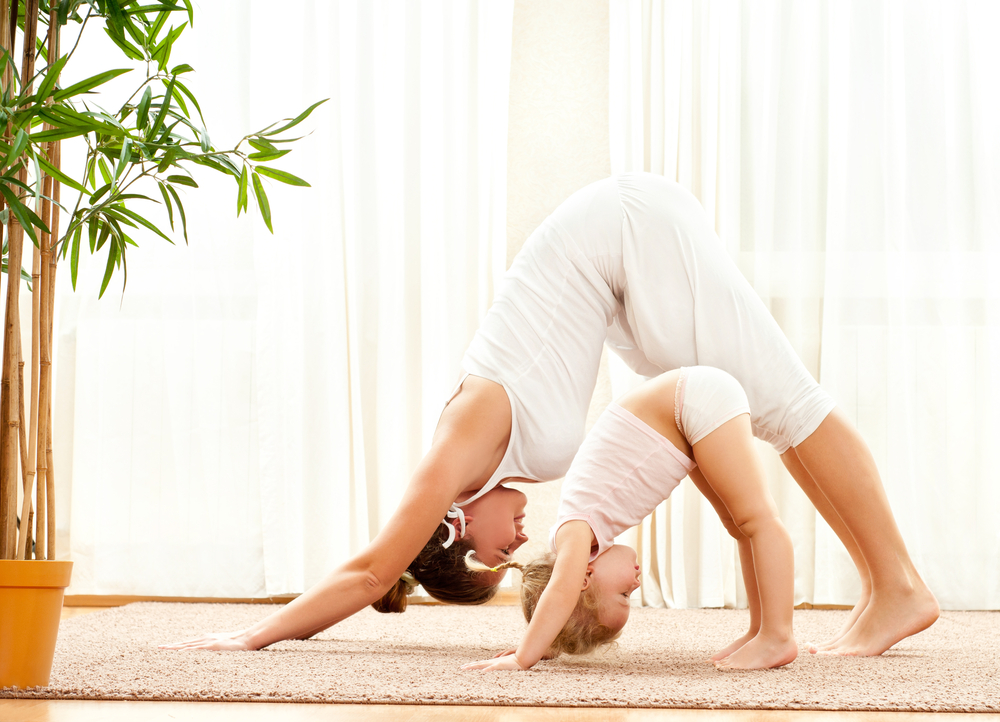 Everyone at any fitness level, and at every life stage can enjoy yoga. Prenatal Yoga, specifically, is gentle and restorative. It can enhance comfort during pregnancy and calm the mind in preparation for the profound journey of parenting.  After babies are born, exciting changes may overwhelm new mums and they may not have time or desire to leave their new babies in order to exercise.  Baby-and-Me Yoga is an opportunity for mums to recover muscle strength and tone without separating from their little ones. Dynamically designed classes involve infants in activities such as baby massage and restful bonding time.
There is a vital energy in children that thrives when channeled into healthy activities that you share together.  Toddler Yoga channels a child's newly discovered energy and independence into creative movement, music, yoga stories, and games.  As children grow, yoga classes may include brain games and breathing techniques to improve teamwork, concentration, self-calming, and listening skills.  Classes are a delight for adults and kids alike. Yoga may work as a protective factor against the typical stresses of student life, or any other stress, since it enables people to better handle distractions and maintain a positive outlook. Early habits, like yoga, teach children stress reduction techniques, emotional strength, self-awareness, and confidence.  These become especially important tools for surviving the teenage years.  Teens are pressured to strive for perfection, and they take that pressure deep into the nervous system.  To them, it can feel like a constant cloud of anxiety.  They develop a love-hate relationship with their bodies and wanting to "do and be their best" can take the form of perfectionism. Yoga is an excellent way to counter harsh judgments that diminish self-esteem by teaching us to look at others and ourselves without criticism..
Yoga invites us to find in ourselves inner calm and contentment.  Advancement in yoga can be measured by one's ability to be still and at peace. Yoga, as a practice, becomes an approach to life, and offers us tools for connecting to the present moment. It cultivates compassion for ourselves, others, and the world around us.  Yoga meditations are not a religion. Guided meditation is practiced by all faiths and deepens relationships by calming the mind and developing self-awareness.  Try the following fun introduction to your child's first experience with mindfulness and meditation (ideal for age 5 years +):
Ask your child to sit or lie down comfortably on the floor.
Invite them to close their eyes if they want to, and to imagine relaxing in big soft bed made of clouds.
In a soft calming voice, slowly read these words to them:
Imagine yourself resting on a soft bed made of clouds.  Feel the soft warm clouds below and you are light as a feather. There are clouds above you and a wonderful view of the sky above you.   Breathe through the sky and bring it into your body. Feel the breeze of the wind inside your neck and your heart.  Let your arms and legs relax and melt softly, like butter on warm bread.  Everything is fine and you are a loving happy child that holds the earth and the sky and the sun within you.  You can be creative and playful.  You are loved by your family, and you have so much love and light to share with the world.
Yoga is not for everyone, and that's okay.  This article is not about yoga, which is only a technique.  This article is about making time for yourself, and doing whatever makes you happy, so that you have the energy to truly 'be present' with your children. It is about the power of finding something fun and active that you can share with your child.  Emotional nourishment comes from the process!
*Elizabeth Penziner holds Master's degrees in Public Health and in Health Promotion. She is a certified yoga instructor and has completed coursework in Mindfulness-Based Stress Reduction with a focus on the therapeutic benefits of yoga for selected populations. With her extensive professional experience in health education and fitness, Elizabeth intends to empower others to live with compassion and enthusiasm. She's the owner of Yoga Intentions, in Paceville. You can find her at www.yogaintentions.com and on Facebook https://www.facebook.com/yoga.intentions .
Category: Guest posts, Resources for Malta Mums