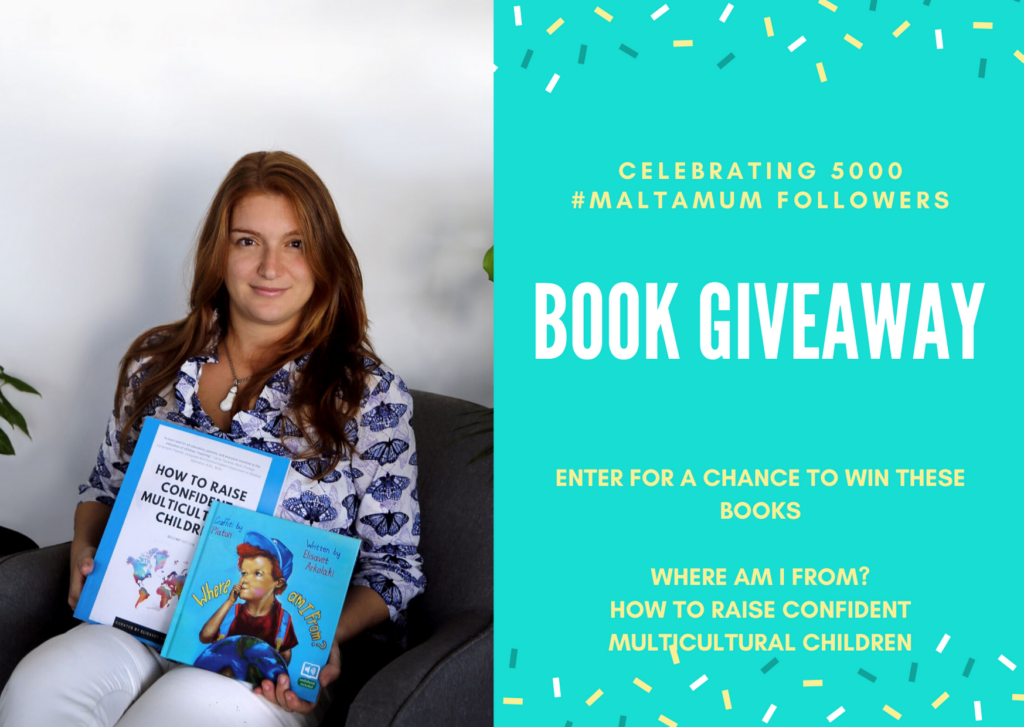 Dear friends,
I hope you're keeping safe and coping with the different new routines that have been in place all around the world. Here in Norway, the kids are back to school, and they've started socializing with a few friends after school as well. We've had 0 cases in our little town for two weeks now and people are feeling more and more relaxed. How are things where you live?
FREE JOURNAL FOR KIDS IN MANY LANGUAGES
My pandemic journal is a lovely initiative by Multicultural Kid Blogs, a blog which is maintained by a group of mum-bloggers from around the world, and of which I am a part of. This free printable is available in several languages (English, Spanish, Swedish, Chinese, and many more) and I translated it to Greek.
BOOK GIVEAWAY
My small Facebook page, Maltamum, which I started in 2013 just before my first kid was born, has now exceeded 5,000 followers. In collaboration with my publisher Faraxa Publishing, we are giving away 1 copy of Where am I from?, and 1 copy of How to Raise Confident Multicultural Children. Click here to enter the draw; it ends on Monday 18 May 10:00 CET. All the best of luck :).
A REVIEW BY A BOOK SNOB, A KID & A BOREDPANDA FEATURE
In other news, I got this feature accepted and published at Bored Panda where you can see photos of the street art before it turned into illustrations. A couple of pictures capture what took about 1 1/2 years to create <3.
I also received two of the most amazing reviews ever that made my heart swell with happiness; I must admit I might have shed a tear or two. You see, one of the kids represented in the book wrote me a book review! And what he describes in there is quite accurate, as the background story truly is that many of these kids were born in Malta, and their parents do come from many different countries.
The other one is a 5-star review on Amazon from someone nicknamed "Book Snob" which you can read here.

FROM THE ARCHIVES
A while back I discovered a lovely children's book at our local library, titled My Two Blankets. It was so good that I felt the need to review it on my blog.
ON THE WEB
A profoundly, thought-provoking read, and one of the best pieces I've read lately online titled Fuck the Bread. The Bread Is Over. by Sabrina Orah Mark.
FACEBOOK HIGHLIGHT
In this difficult time, Multicultural Kid Blogs members, its family, and friends want to spread a message of kindness to all. A message of kindness in different languages from around the world.
Is there anything you feel is worth sharing on my blog and newsletter? If yes, please hit "reply". I'd love to hear from you.
I wish you a lovely week ahead and remember to enter the giveaway.
Take care and all the best of luck :)!
//Elisavet Arkolaki
Category: Multicultural Kid, Mum's Library, Resources for Malta Mums, Where am I from?