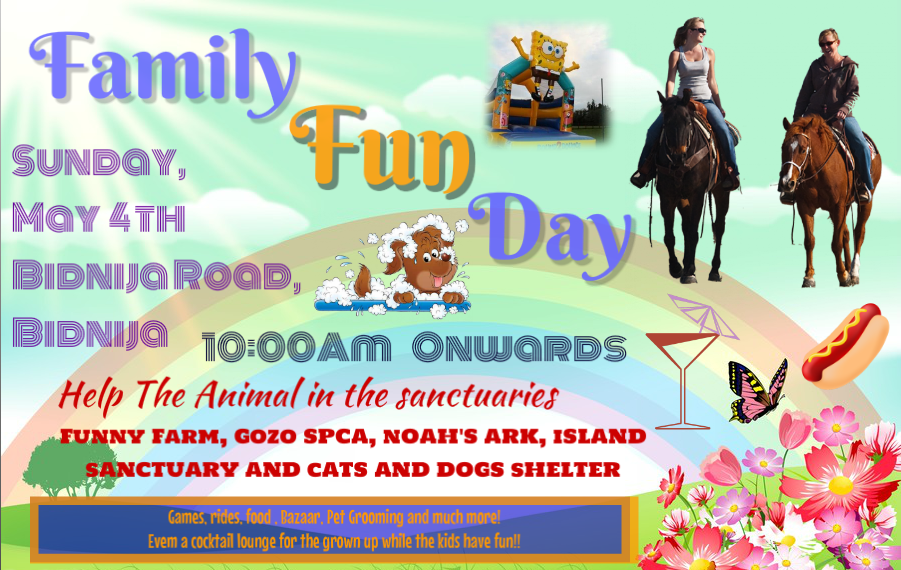 The Horse Riding for Animal Aid event is organized by Furry Tails with the objective of helping out 5 animal sanctuaries: Island Sanctuary, Noah's Ark, Cats and Dogs Shelter, Gozo SPCA and Funny Farm.
The event is taking place on Sunday 4 May 2014 in Bidnija.
What there will be at the event on the 4th of May:
> Horse riding for all ages
> Pet grooming by Furry Friends
> Furry Tails Bazaar, selling new and second hand items
> Borg Cardona will be there selling Pet goods
> Dog Trust
> Matilda's Cafe and Bistro selling Food and having a cocktail Lounge
> Sponge bob – Bouncy Castle
> Face Painting
> Gozo SPCA Will be having a stand at the event engraving dog/cat tags
> Always Natural Malta selling Natural Products for both animals and humans
> Cheeramigos Giving Children entertainment
> The Little Fun Bus will be joining us as well
> Adult Entertainment = Dancers, singers, ecc….
> Homemade Crafts for sale
> Raffle Prizes such as Crystal vases, ecc….
> An Area where one can donate Pet food in aid of Animals
Animal feed will be accepted and collected at the event.
The money collected will all go to the sanctuaries.
Price: €1 at the Entrance
Click here for the event.
Category: Events in Malta, Past events