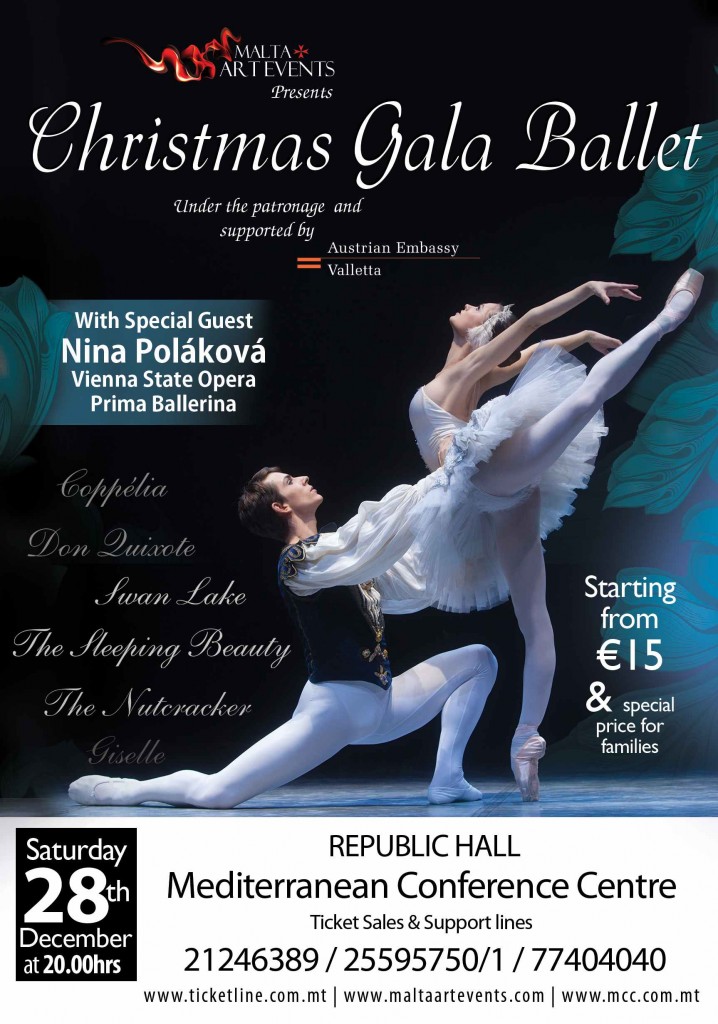 The Christmas Ballet Gala is an exclusive family event showcasing some of the leading, best ballet stars from the most prestigious international companies and theaters.
Producer: Malta Art Events
Venue: MCC, Republic Hall
Date: Saturday, December 28, 2013
Time: 20.00 hrs
More info:
After the success of the Ballet Romeo and Juliet at Xara Lodge and the Opera Gala at Hotel Hilton, Malta Art Events now proudly presents the Christmas Ballet Gala on 28th December 2013, at the Mediterranean Conference Centre in Valletta.
 Thanks to the support of the Austrian Embassy in Malta, Prima Ballerina Nina Polakova of the Vienna State Opera and her ballet partner Eno Peci will grace the stage of the MCC. Along with Nina Polakova and Eno Peci other Ballet Stars from Prague's National Theatre and International soloists including guest artists Barbara Kohoutkova and Martin Dvoark, will be performing famous pieces amongst which one can expect The Nutcracker, Swan Lake, The Sleeping Beauty, Giselle.
The evening includes the participation of the YADA Dance Company with their opening act Walzer from The Nutcracker.
This is a unique event in its entirety to be enjoyed by adults and children alike. In order to make this one time opportunity accessible to everyone, we are making a special price for children and families.
This year, give the festive season a touch of class and join us for an exciting performance, celebrating the beauty of Ballet Art .
Tickets can be booked online – 
Or in person from the Embassy Cinema Box office. Level 3 at The Embassy Shopping Complex in Valletta
Open Monday to Sunday from 10:00 until 21:00
-Booking office at MCC to reopen on Monday 16/12
-Times of booking office: From Mon 16/12- Fri 20/12 from 17:00 – 19:00 onlySat 21/12- from 10:00 – 13:00
Mon 23/12 – from 17:00 – 19:00
Tues 24/12 – Wed 25/12 closed
Thurs 26/12 – Fri 27/12 – from 10:00 – 13:00 and from 17:00 – 19:00
Sat 28/12- From 18:00 onwards
For further information visit:
or call on 77404040
Category: Past events