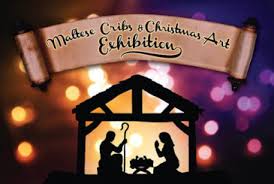 A number of Maltese artists will be presenting an ensemble of Nativity cribs and a variety of artistic exhibits on the theme of the birth of Jesus Christ in a multi-media exhibition, at the Auberge d'Italie in Merchants Street, Valletta. Each of these exhibits will bear individual designs by different artists both in the type of materials used, as well as by the creativity manifested in the works.
This annual exhibition will be open to the public, for free, from Monday 16th December till Sunday 5th Jan 2014. For more information send an email to info@visitmalta.com or call on 22915440/1.
Opening hours are as follows:
Monday to Friday: 09:00 -18:00
Saturday: 09:00 – 16:00
Sundays: 09:00 – 12:45
Closed on :
24th and 31st December after 1 p.m;
25th December and 1st January 2014 all day.
 THE TRADITION OF CRIBS IN MALTA
The tradition of crib making in Malta dates back to the early 17th Century when merchants and nobles used to buy Nativity Scenes from Naples or Sicily. The cribs produced today in Malta are varied and made up of a combination of material, whether papier-mâché, poliystherene, rocks, wood etc. Some cribs have mechanised figurines that animate the cribs. The main theme surrounding the nativity scene is typically rural and depicts daily life of olden centuries. Innumerable self-made craftsmen love to exhibit cribs in their own home, whether behind window or else behind glass doors. Others opt to go for something bigger and convert their garage or sitting room into an enormous crib that fills the room for the admiration of invited guests.
Category: Past events