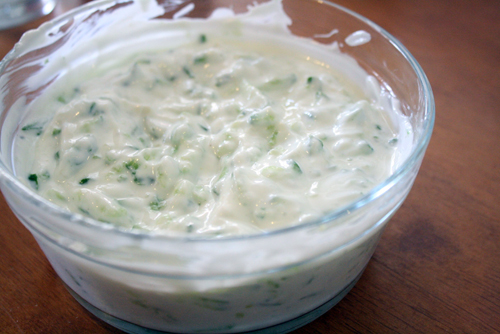 Tzatziki is the perfect compliment to grilled meats and vegetables.
Being a Greek myself, this is the way we always prepared tzatziki at home.
Preparation time: 10′
Ingredients
500gr of full fat Greek yoghurt
4-5 cloves of garlic, peeled and minced finely (2-3 if you don't like a strong garlic flavour)
2/3 of 1 cucumber, trimmed, all juice squized out with your hands
2 big spoons extra virgin olive oil
2 big spoons white vinegar
A handful fresh mint leaves, chopped
A pinch of salt
Instructions
Put all ingredients in a bowl. Mix with a spoon until well combined. If you can wait, let it chill for a while in the fridge before serving.
Variations
Mint can be replaced with dill or carrot. My personal favourite is with mint.
Category: Fast and tasty recipes