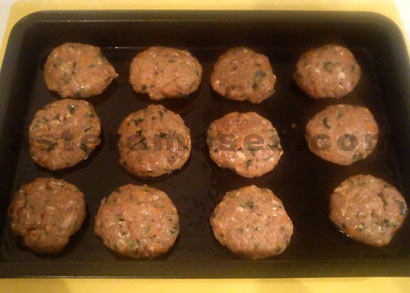 This is my favourite recipe for meatballs, originating from a traditional Greek meatballs recipe.
Preparation time: 20′
Ingredients to be mixed in the blender
A handful of fresh parsley and dill
2 eggs
2 small onions/1 big
3-4 big mature tomatoes
1 carrot (medium size)
A spoonful dried oregano
Pepper/salt
Other ingredients
600gr fresh minced beef
400gr fresh minced pork
Bread crumb/fresh bread but only the soft part (as much as you see it fit in order to be able to mold the meatballs)
Instructions
Mix everything with your hands in a big bowl and make sure the bread is cut in tiny pieces after being soaked in the other ingredients. If needed, add more tomatoes or water
Let is stay in the fridge for 30′
Mold the meetballs
Put some extra virgin olive oil on the cooking tray and place the meatballs
Optional: you could place slices of tomatoes on top of each meatball OR put in the blender some tomatoes and pour the juice over the meatballs. It gives them an even better taste.
Preheat the oven at 250c and cook for approximately 1h.
The meatballs can be served with a Greek salad (recipe will follow soon), oven baked potatoes (recipe will follow soon), and Greek tzatziki dip.
Category: Fast and tasty recipes