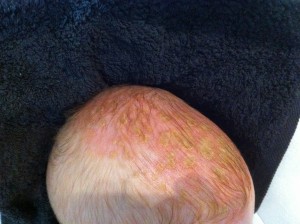 Cradle cup might look horrible but it's harmless and doesn't bother the baby at all. It can last for a year, sometimes even more, and it's absolutely common and in the range of normal. Parents, friends and relatives, even medical professionals (!), might be obsessed though, wanting it to go away now, fast.
So far I've been using the natural way to treat it on Erik, which is apply a little bit of virgin olive oil on his head every day (almond oil does the job as well), once or twice a week just a dash of oregano together with the oil, and once the oil is absorbed, take a cotton ball, dip it in some fresh boiled organic chamomile and clean the area, tapping gently. I sometimes also use a very soft baby brush instead of a cotton ball.
The progress has been slow with this method, but there is progress, all natural.
Last time we went to the Walk-in breastfeeding clinic at Mater Dei, a midwife suggested a more drastic method to cure it. She gave me a sample of La Roche-Posay KERIUM DS Anti-dandruff intensive shampoo and that of a cream from the same company.
I was stupid enough not to test the soap under his arm and close to the armpit to see if my baby would react to the new product and chemicals. Unfortunately, Erik had a BAD reaction. His head turned red, plus his eyes cause some water with soap dripped down there, and he started crying. His skin looked burned!
His eyes were fine around 1 hour later, but his head is still red, 1 day after, as you can see in the picture.
I felt so bad and so guilty and so responsible for this.
I am not saying that your baby will necessarily have the same reaction to this product, or any other product claiming to treat cradle cap, but please always test any new products on you first and then within the arm of your baby and check for any allergic reactions.
As you can imagine, I didn't use the cream, I threw away the soap, and we're back to the natural way of treating his cradle cap.
Better natural, late and safe.
—————
30/01/2014
An update to this story:
I contacted the hospital and the relevant department, sending them an email with what happened and a picture of my baby's head. I appreciate the honesty and the fact that these samples are no longer going to be given to mums, and I have seen with my own eyes that the professionals working at the breast feeding clinic are genuinely nice and caring, but still, the excuse they gave me about the agents ("The agents of this product have informed us that it can be used on babies for cradle cap which was not questioned") is outrageous. Since that is the case, we should be informed when we are given samples at the hospital that we are to use them at our own risk, and that they have NOT TESTED them!
—–
The email I sent:
"Hi,
Please forward this email to the Walk-in Breastfeeding clinic.
My 6 months old has cradle cup and I was advised to use this product by midwives working there: http://www.laroche-posay.com/products-treatments/Kerium/Kerium-DS-Anti-dandruff-intensive-p3874.aspx
This product is apparently for ADULTS and that might be the reason why my son had such a bad reaction to this.
My baby boy started crying when I showered him with this, and a little bit of water and soap dripped down to his eyes. His eyes and head got red, as if burned! It took 2 days before the redness from his head went away!
Please see the attached picture which was taken 1 day after the shower!
Please, please, please don't advise mums to use products that might give to their babies such bad reactions and make them suffer. We need to be able to trust you when you give us advice and products to use.
Thanks a lot for taking this under consideration and stop giving this to mummies."
AND
The email I got:
"Thank you for your email. The agents of this product have informed us that it can be used on babies for cradle cap which was not questioned. Although we have not been informed of such a reaction from anyone else, I have removed all the samples and instructed to stop recommending its use.
I apologise for the distress caused to you and your baby and will be informing the product agent of this as well"
Category: Erik and me, Resources for Malta Mums